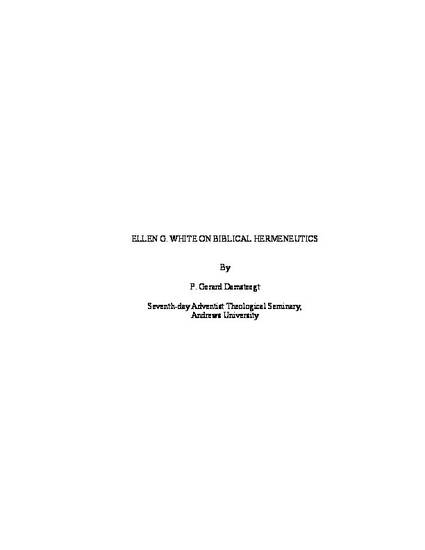 Unpublished Paper
Ellen G. White on Biblical Hermeneutics
Theology of Ordination Study Commission (2013)
Abstract
Most of Ellen G. White's life was spent in the nineteenth century as the
foundation of the modern historical-critical method of Bible interpretation was being laid.
She frequently commented on the importance of the Bible to our lives and how to
interpret it. When the church was faced with difficult issues she successfully guided it,
always appealing to Bible principles. This paper attempts to bring together Ellen G.
White's views on the objectives, principles, and methods for interpreting Scripture in
order to discover the truth about God's teachings and practices in the Bible.
Publication Date
January, 2013
Citation Information
P. Gerard Damsteegt. "Ellen G. White on Biblical Hermeneutics"
Theology of Ordination Study Commission
(2013)
Available at: http://works.bepress.com/p_gerard_damsteegt/25/