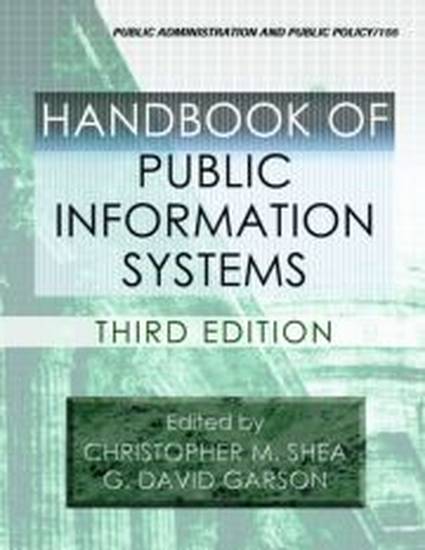 Contribution to Book
When Public Information Systems Become a Crime Scene: An Overview of Forensic Considerations in Incident Response
Handbook of Public Information Systems (2010)
Abstract
Delivering IT projects on time and within budget, while maintaining privacy, security, and accountability, remains one of the major public challenges of our time. In the four short years since the publication of the second edition of the Handbook of Public Information Systems, the field of public information systems has continued to evolve. This evolution has elucidated many issues that public sector managers face as they wrestle with the information age. Completely revised and updated, the third edition addresses all aspects of public IT projects while emphasizing a common theme: Information technology initiatives are neither simple nor routine. These initiatives carry substantial implications for democratic values, policy development, strategic planning, and the mobilization of human capital.
The third edition provides further insight into significant issues such as:
Network governance
Cross organizational integration and operability
Enterprise architecture design, development, and management
The impact of information technology on government service delivery
With articles contributed by experts in the field, the coverage includes 21
st
century public information systems, modern IT needs, and the development of e-governments. The book examines the growth and use of information technology within and among government agencies and organizations. It examines current policy issues, offers case studies, and demonstrates successful public sector applications. Each section leads to a holistic approach that emphasizes communication, understanding, and participation from top management, technology teams, and end users.
The more we learn about e-government and e-governance issues, the more it becomes apparent that the interrelationships between political environments, organizational environments, and technological capabilities are often difficult to summarize and predict. As the field advances, our understanding of the complexity of the relevant issues increases, and more guidance becomes available to administrators. This book puts you on the path to a better understanding of the issues and successful implementation of IT projects.
Publication Date
March 10, 2010
Citation Information
P. Cary Christian. "When Public Information Systems Become a Crime Scene: An Overview of Forensic Considerations in Incident Response" Third Edition,
New York Handbook of Public Information Systems
(2010)
source:http://www.amazon.com/Handbook-Information-Systems-Edition-Administration/dp/1439807566
isbn:9781439807569
Available at: http://works.bepress.com/p-christian/2/