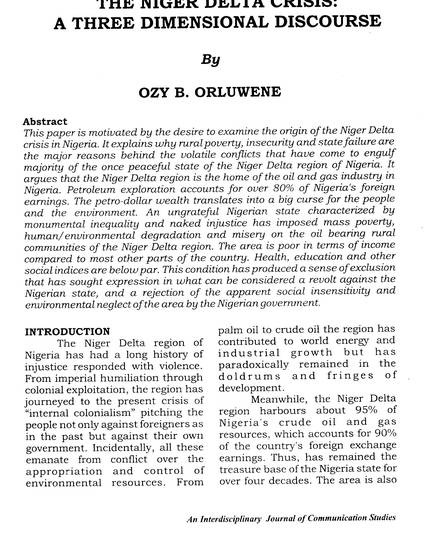 Article
The Niger Delta Crisis: A Three Dimensional Discourse
International Journal of Communication: An Interdisciplinary Journal of Communication Studies (2008)
Abstract
ABSTRACT This paper is motivated by the desire to examine the origin of the Niger Delta crisis in Nigeria. It explains why rural poverty, insecurity and state failure are the major reasons behind the volatile conflicts that have come to engulf majority of the once peaceful state of the Niger Delta region of Nigeria. It argues that the Niger Delta region is the home of the oil and gas industry in Nigeria. Petroleum exploration accounts for over 80% of Nigeria's foreign earnings. The petro-dollar wealth translates into a big curse for the people and the environment. An ungrateful Nigerian state characterized by monumental inequality and naked injustice has imposed mass poverty, human/environmental degradation and misery on the oil bearing rural communities of the Niger Delta region. The area is poor in terms of income compared to most other parts of the country. Health, education and other social indices are below par. This condition has produced a sense of exclusion that has sought expression in what can be considered a revolt against the Nigeria state, and a rejection the apparent social insensitivity and environmental neglect of the area by the Nigerian government.
Keywords
Niger Delta,
Crisis,
Poverty,
Insecurity,
State Failure.
Publication Date
April, 2008
Citation Information
Ozy B. Orluwene. "The Niger Delta Crisis: A Three Dimensional Discourse"
International Journal of Communication: An Interdisciplinary Journal of Communication Studies
Vol. Eight (2008)
Available at: http://works.bepress.com/ozyb_orluwene/32/