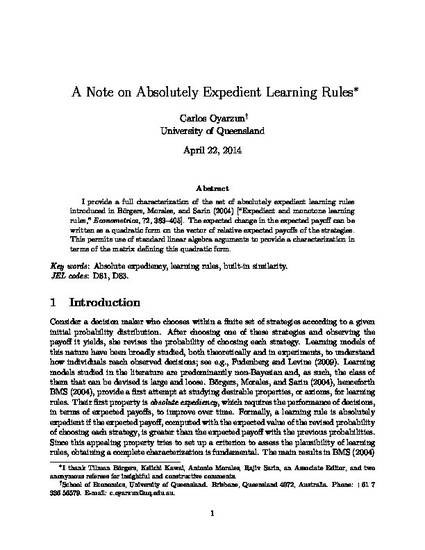 Article
A Note on Absolutely Expedient Learning Rules
Journal of Economic Theory (2014)
Abstract
I provide a full characterization of the set of absolutely expedient learning rules introduced in Börgers, Morales, and Sarin (2004) ["Expedient and monotone learning rules," Econometrica, 72, 383–405]. The expected change in the expected payoff can be written as a quadratic form on the vector of relative expected payoffs of the strategies. This permits use of standard linear algebra arguments to provide a characterization in terms of the matrix defining this quadratic form.
Citation Information
Carlos Oyarzun. "A Note on Absolutely Expedient Learning Rules"
Journal of Economic Theory
(2014)
Available at: http://works.bepress.com/oyarzun/8/