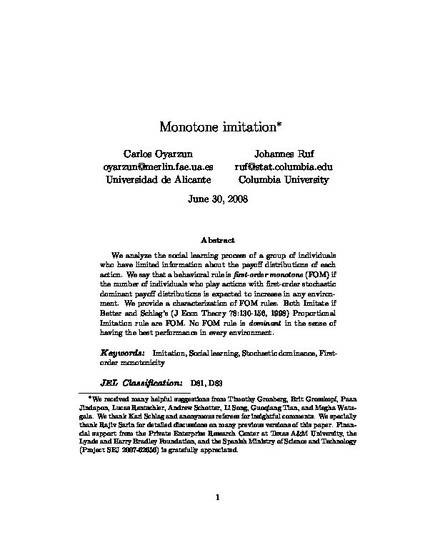 Article
Monotone Imitation
Economic Theory (2009)
Abstract
We analyze the social learning process of a group of individuals who have limited information about the payoff distributions of each action. We say that a behavioral rule is first-order monotone (FOM) if the number of individuals who play actions with first-order stochastic dominant payoff distributions is expected to increase in any environment. We provide a characterization of FOM rules. Both Imitate if Better and Schlag's (J Econ Theory 78:130-156, 1998) Proportional Imitation rule are FOM. No FOM rule is dominant in the sense of having the best performance in every environment.
Keywords
Imitation,
Social learning,
Stochastic dominance,
Firstorder monotonicity
Citation Information
Carlos Oyarzun and Johannes Ruf. "Monotone Imitation"
Economic Theory
Vol. 41 Iss. 3 (2009)
Available at: http://works.bepress.com/oyarzun/1/