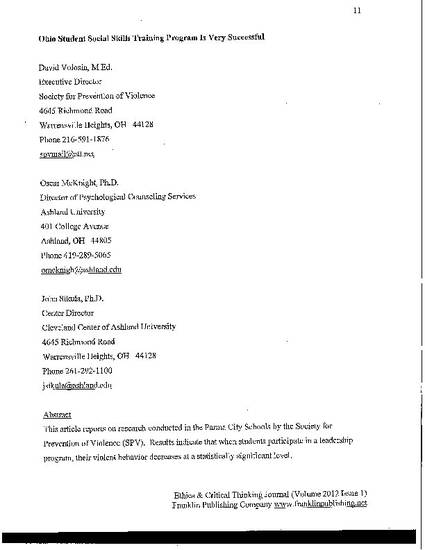 Article
Ohio Student Social Skills Training Program is Very Successful
Ethics & Critical Thinking Journal (2012)
Abstract
This article reports on research conducted in the Parma City Schools, Ohio by The Society for Prevention of Violence (SPV). The SPV is dedicated to reducing the prevalence of violent acts and asocial behaviors of children and adults through education. It accomplishes this mission by teaching children and adults the use of the skills necessary to build their character. Findings suggest that the SPV program improves the ability of children within class to pay attention and be organized. The greatest improved social behaviors for participants were in helping others who are having trouble; increased ability to initiate positive interactions; and, improved ability to talk about personal problems. Data also suggested improved leadership ability. Overall, results indicate that when students participate in a leadership program, their violent behavior decreases.
Keywords
Oscar McKnight,
David Volosin,
John Sikula,
Social Skills,
Social Skills Training,
Ohio Student Social Skills,
Parma City Schools,
Society for Prevention of Violence,
SPV,
Ethics,
violent,
prevention
Citation Information
David Volosin, Oscar T McKnight and John Sikula. "Ohio Student Social Skills Training Program is Very Successful"
Ethics & Critical Thinking Journal
Vol. 2012 Iss. 1 (2012)
Available at: http://works.bepress.com/oscar_mcknight/45/