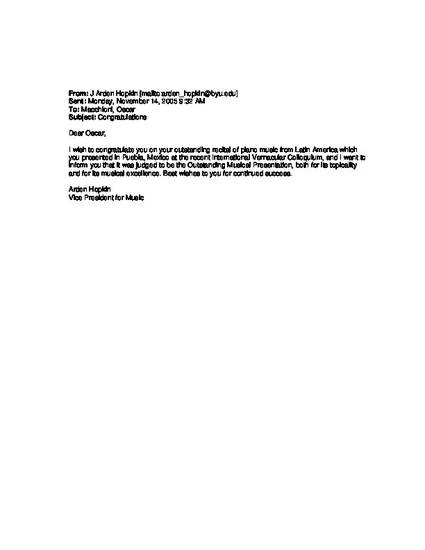 Presentation
Mexico, Puebla, Second International Vernacular Conference. Solo Recital October 27, 2005
ICTM (2005)
Abstract
Mostly Tangos. Piano Music from the Americas. Selected "The Outstanding Musical Presentation both for its topicality
and for its musical excellence." I also served as a Chair and a Respondent in two different panels.
Works Performed:
Bachianas Brasileiras No. 4 For solo Piano by Heitor Villa-Lobos
Hesitation Tango by Samuel Barber
The Dead Moth Tango by William Bolcom
Tangos by Juan José Castro
Intermezzo by Manuel M Ponce
Malambo (first edition) by Alberto Ginastera.
Publication Date
Summer October 27, 2005
Citation Information
Oscar E. Macchioni. Mexico, Puebla, Second International Vernacular Conference. Puebla: October 27, 2005.