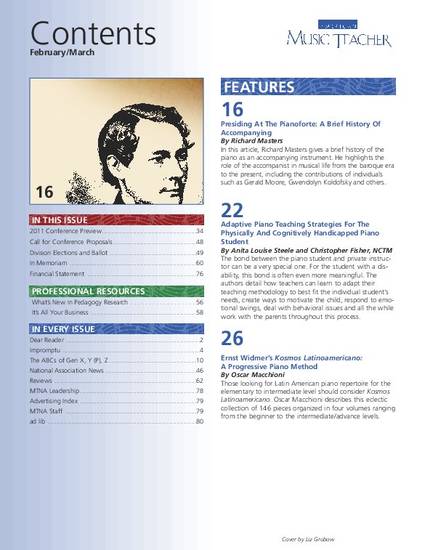 Article
Ernst Widmer's Kosmos Latinoamericano: A Progressive Piano Method
American Music Teacher (2011)
Abstract
Article. Published February/March Issue, 2011.
Latin American piano repertoire for the elementary to intermediate level is not an easy subject since most of the available scores of famous Latin American composers are for the late intermediate or advanced level. Ernst Widmer (1927-1990), a Swiss composer who moved to Bahia, Brazil in 1956, composed Kosmos Latinoamericano between 1978 and 1982. It is an eclectic collection of 146 pieces organized in four volumes ranging from the beginner to the intermediate/advance levels. It includes an array of musical elements such as: original compositions and improvisations; readings and exercises; popular melodies and rhythms from Latin America; and pieces using percussion effects such as knocking on the piano's frame or playing inside the piano's strings. They are all written using a variety of compositional techniques which include: parallel, inverted, tonal, pentatonic, and hexatonal melodies; fugues and canons; and bimodality amongst others. These books are published in Spanish with English translation.
Publication Date
January, 2011
Citation Information
Oscar E Macchioni. "Ernst Widmer's Kosmos Latinoamericano: A Progressive Piano Method"
American Music Teacher
(2011)
Available at: http://works.bepress.com/oscar_macchioni/45/