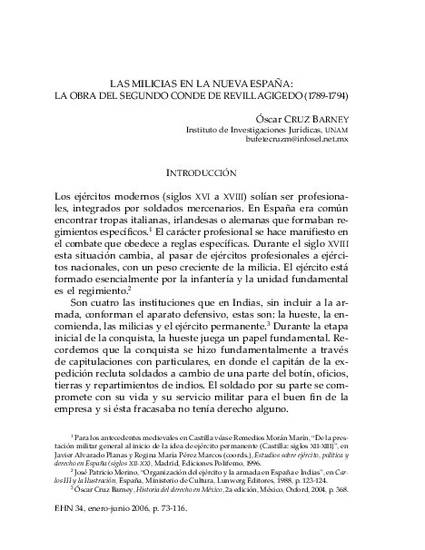 Article
Las milicias en la Nueva España: la obra del segundo Conde de Revillagigedo (1789-1794)
Estudios de historia novohispana (2006)
Abstract
Puntual relación de las reformas militares implantadas por el segundo conde de Revillagigedo en la Nueva España, especialmente en lo referente a las milicias no profesionales, que necesitaban una urgente modernización y reglamentación. Estas reformas se implantaron como parte de los planes de la monarquía para crear un ejército colonial capaz de defender las fronteras y litorales del virreinato y de controlar los principales centros urbanos y regiones socioeconómicas. Parte esencial de este proyecto fue la redacción de reglamentos específicos para las milicias provinciales y urbanas (ciudades de México y Puebla) de acuerdo con las circunstancias regionales y las posibilidades reales de organizar eficientes cuerpos militares. Punctual relation of the military reforms introduced by the second count of Revillagigedo in New Spain, especially those related to non-professional militias that were in need of urgent modernization and reglamentation. These reforms were part of monarchy plans for the creation of a colonial army capable of defending the borders and coast shores of the viceroyalty and to control the principal urban centers and socioeconomic regions of New Spain. Essential part of this project was the writing of specific regulations for the provincial and urban militias (cities of Mexico and Puebla) according with regional circumstances and the real possibilities for the organization of efficient military corps.
Citation Information
Óscar Cruz. "Las milicias en la Nueva España: la obra del segundo Conde de Revillagigedo (1789-1794)"
Estudios de historia novohispana
Iss. 34 (2006)
Available at: http://works.bepress.com/oscar_cruz_barney/10/