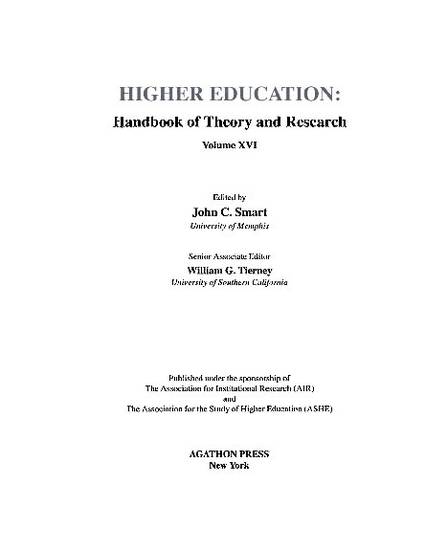 Article
Bringing Political Theory to University Governance: The University of California and the Universidad Nacional Autónoma de México
Higher Education, Handbook of Theory and Research (2001)
Abstract
While important normative work has been produced on various aspects of governance, including trusteeship (Cheit, Holland and Taylor, 1991; Kerr and Gade, 1989), institutional autonomy (Berdahl, 1990), and governance struc- tures (Richardson ct al., 1998) little theoretical inquiry has been devoted to two essential questions of governance: how arc key decisions actually made in the postsecondary sector, and who makes them? In order to advance our unuer- stanuing of higher education governance and policy-making, it is first essential to restore a political theoretical framework to the study of higher cuucation organizations. To that end we begin with an historical review of the relationship between political science and theories of organization, and an overview of the prevailing governance moucls in higher education research. After presenling the respective cases of governing board formation at UC and the UNAM we present data on a contemporary episode of significant conflict over governance at each institution, to better illustrate the utility of the political theoretical framework in these cases.
Citation Information
Brian Pusser and Imanol Ordorika. "Bringing Political Theory to University Governance: The University of California and the Universidad Nacional Autónoma de México"
Higher Education, Handbook of Theory and Research
Vol. XVI (2001)
Available at: http://works.bepress.com/ordorika/35/