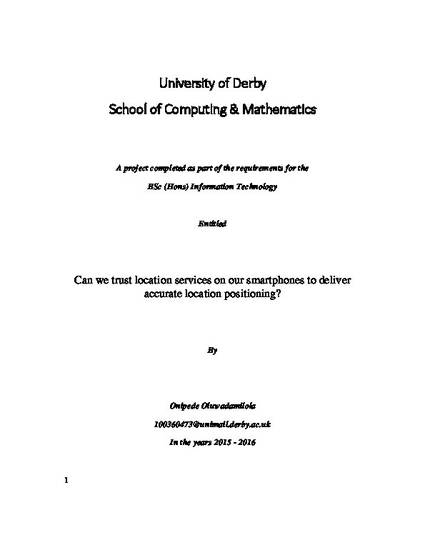 Thesis
O-Onipeda.pdf
(2014)
Abstract
Location services are used my mobile devices and computers generally to determine the current location of such devices and to access services such as weather report, news and people around their location (in the case of dating and social media applications), before the development of big data and internet of things most people and organisations completely trust the data in their computer and mobile devices, with 1 trillion connected objects and 2.5 billion gigabytes of data generated every day, 80 percent of the world's data is unstructured, uncertain and unreliable (IBM, 2013) in most cases location services on mobile devices need only estimated location of the mobile device to offer relevant services.
This study focuses on the variation of location accuracy of smartphones in three different environments (indoor, urban and rural), the research was conducted using two smartphones the Blackberry Q10 and Blackberry 9790, the Blackberry Q10 is the newer model and is expected to perform better than the Blackberry 9790 because of the improvement on its A-GPS technology and the ability to connect to the Russian satellite system GLONASS, the older phone uses only the A-GPS technology. This study examines the factors that may affect the efficiency of both devices to produce accurate location position.
Location samples were collected in 500 locations each by the two devices in the three different environment and the Blackberry Q10 performed better in the urban and rural environment except in the indoor where the blackberry 9790 recorded an average accuracy of 61meters and the newer phone surprisingly recorded 130 meters in average accuracy which draws a conclusion that smartphones still have a great challenge of providing accurate location position in indoor environment even with the improvement in their A-GPS technology.
Keywords
Location-based system,
Smartphones,
LBS
Publication Date
Spring April 11, 2014
Citation Information
Madadipouya, K., 2014. An Examination And Report On Potential Methods Of Strategic Location-Based Service Applications On Mobile Networks And Devices. arXiv preprint arXiv:1411.4294.
Creative Commons license
This work is licensed under a Creative Commons CC_BY International License.