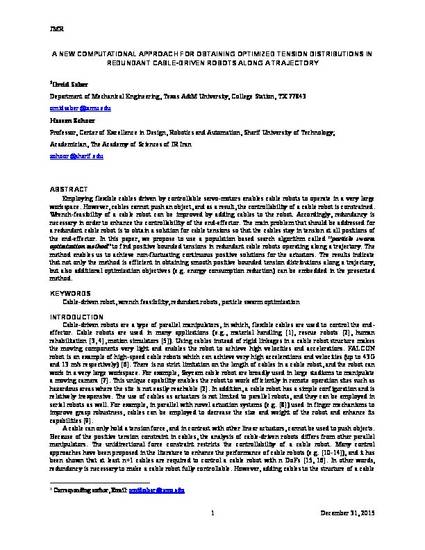 Unpublished Paper
A NEW COMPUTATIONAL APPROACH FOR OBTAINING OPTIMIZED TENSION DISTRIBUTIONS IN REDUNDANT CABLE-DRIVEN ROBOTS ALONG A TRAJECTORY
Cable-Robots (2016)
Abstract
Employing flexible cables driven by controllable servo-motors enables cable robots to operate in a very large workspace. However, cables cannot push an object, and as a result, the controllability of a cable robot is constrained. Wrench-feasibility of a cable robot can be improved by adding cables to the robot. Accordingly, redundancy is necessary in order to enhance the controllability of the end-effector. The main problem that should be addressed for a redundant cable robot is to obtain a solution for cable tensions so that the cables stay in tension at all positions of the end-effector. In this paper, we propose to use a population based search algorithm called "particle swarm optimization method" to find positive bounded tensions in redundant cable robots operating along a trajectory. The method enables us to achieve non-fluctuating continuous positive solutions for the actuators. The results indicate that not only the method is efficient in obtaining smooth positive bounded tension distributions along a trajectory, but also additional optimization objectives (e.g. energy consumption reduction) can be embedded in the presented method.
Keywords
Cable-driven robot,
wrench feasibility,
redundant robots,
particle swarm optimization
Publication Date
Spring January 1, 2016
Citation Information
Omid Saber and Hassan Zohoor. "A NEW COMPUTATIONAL APPROACH FOR OBTAINING OPTIMIZED TENSION DISTRIBUTIONS IN REDUNDANT CABLE-DRIVEN ROBOTS ALONG A TRAJECTORY"
Cable-Robots
(2016)
Available at: http://works.bepress.com/omid-saber/2/