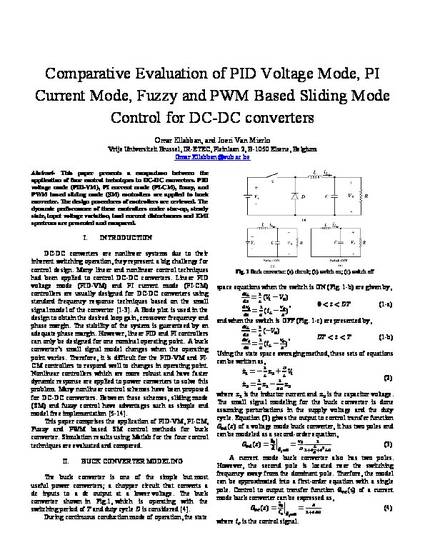 Article
Comparative Evaluation of PID Voltage Mode, PI Current Mode, Fuzzy and PWM Based Sliding Mode Control for DC-DC converters
the 13th International Middle East Power System Conference MEPCON 2009 (2009)
Abstract
This paper presents a comparison between the application of four control techniques in DC-DC converters. PID voltage mode (PID-VM), PI current mode (PI-CM), fuzzy, and PWM based sliding mode (SM) controllers are applied to buck converter. The design procedures of controllers are reviewed. The dynamic performance of these controllers under star-up, steady state, input voltage variation, load current disturbances and EMI spectrum are presented and compared.
Publication Date
December 20, 2009
Citation Information
Omar Ellabban, and Joeri Van Mierlo, "Comparative Evaluation of PID Voltage Mode, PI Current Mode, Fuzzy and PWM Based Sliding Mode Control for DC-DC converters", the 13th International Middle East Power System Conference MEPCON 2009, December 20-23, 2009, Assiut University, Assiut, Egypt.