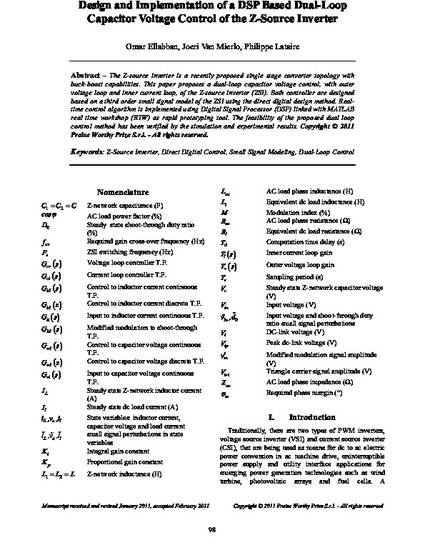 Article
Design and Implementation of a DSP Based Dual-Loop Capacitor Voltage Control of the Z-Source Inverter
International Review of Electrical Engineering (IREE) (2011)
Abstract
The Z-source inverter is a recently proposed single stage converter topology with buck-boost capabilities. This paper proposes a dual-loop capacitor voltage control, with outer voltage loop and inner current loop, of the Z-source inverter (ZSI). Both controller are designed based on a third order small signal model of the ZSI using the direct digital design method. Real-time control algorithm is implemented using DSP linked with MATLAB real time workshop (RTW) as rapid prototyping tool. The feasibility of the proposed dual loop control method has been verified by the simulation and experimental results.
Publication Date
February, 2011
Citation Information
Omar Ellabban, Joeri Van Mierlo and Philippe Lataire, "Design and Implementation of a DSP Based Dual-Loop Capacitor Voltage Control of the Z-Source Inverter", International Review of Electrical Engineering (IREE), Vol. 6, No. 6, 6, pp. 98-108, February 2011.