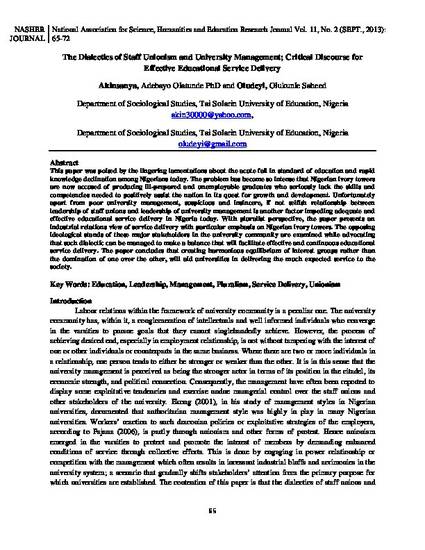 Article
The Dialectics of Staff Unionism and University Management; Critical Discourse for Effective Educational Service Delivery
National Association for Science, Humanities and Education Research Journal (NASHERJ) (2013)
Abstract
This paper was poised by the lingering lamentations about the acute fall in standard of education and rapid knowledge declination among Nigerians today. The problem has become so intense that Nigerian ivory towers are now accused of producing ill-prepared and unemployable graduates who seriously lack the skills and competencies needed to positively assist the nation in its quest for growth and development. Unfortunately apart from poor university management, suspicious and insincere, if not selfish relationship between leadership of staff unions and leadership of university management is another factor impeding adequate and effective educational service delivery in Nigeria today. With pluralist perspective, the paper presents an industrial relations view of service delivery with particular emphasis on Nigerian ivory towers. The opposing ideological stands of these major stakeholders in the university community are examined while advocating that such dialectic can be managed to make a balance that will facilitate effective and continuous educational service delivery. The paper concludes that creating harmonious equilibrium of interest groups rather than the domination of one over the other, will aid universities in delivering the much expected service to the society.
Keywords
Education,
Leadership,
Management,
Pluralism,
Service Delivery,
Unionism
Publication Date
September, 2013
Citation Information
Olukunle Saheed Oludeyi and Adebayo Olatunde Akinsanya. "The Dialectics of Staff Unionism and University Management; Critical Discourse for Effective Educational Service Delivery"
National Association for Science, Humanities and Education Research Journal (NASHERJ)
Vol. 11 Iss. 2 (2013)
Available at: http://works.bepress.com/oludeyi_olukunle/3/