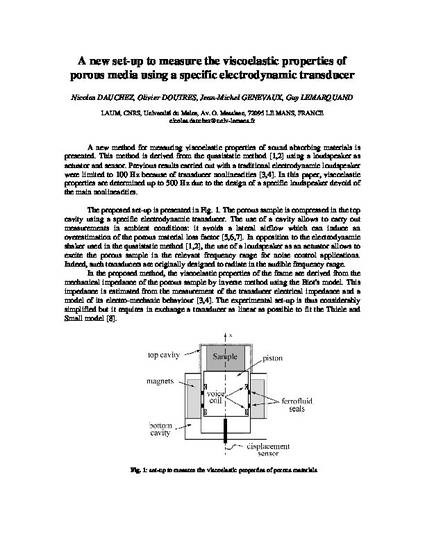 Presentation
A new set-up to measure the viscoelastic properties of porous media using a specific electrodynamic transducer
Symposium on the Acoustics of Poro-Elastic Materials (SAPEM) (2008)
Abstract
A new method for measuring viscoelastic properties of sound absorbing materials is presented. This method is derived from the quasistatic method using a loudspeaker as actuator and sensor. Previous results carried out with a traditional electrodynamic loudspeaker were limited to 100 Hz because of transducer nonlinearities. In this paper, viscoelastic properties are determined up to 500 Hz due to the design of a specific loudspeaker devoid of the main nonlinearities.
Publication Date
December, 2008
Citation Information
Dauchez Nicolas, Olivier Doutres, Jean-Michel Génevaux and Guy Lemarquand. "A new set-up to measure the viscoelastic properties of porous media using a specific electrodynamic transducer"
Symposium on the Acoustics of Poro-Elastic Materials (SAPEM)
(2008)
Available at: http://works.bepress.com/olivier_doutres/19/