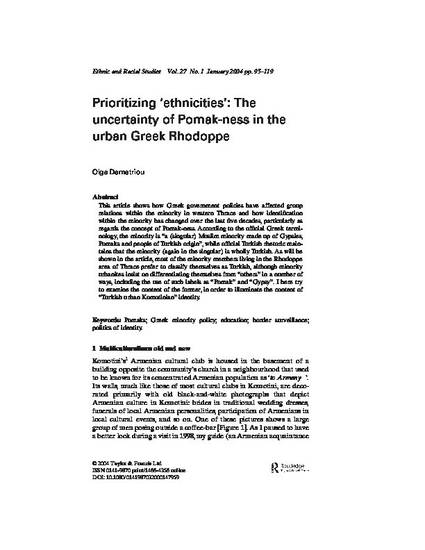 Article
Prioritizing 'ethnicities': The uncertainty of Pomak-ness in the urban Greek Rhodoppe
Ethnic and Racial Studies (2004)
Abstract
This article shows how Greek government policies have affected group relations within the minority in western Thrace and how identification within the minority has changed over the last five decades, particularly as regards the concept of Pomak-ness. According to the official Greek terminology, the minority is "a (singular) Muslim minority made up of Gypsies, Pomaks and people of Turkish origin", while official Turkish rhetoric maintains that the minority (again in the singular) is wholly Turkish. As will be shown in the article, most of the minority members living in the Rhodoppe area of Thrace prefer to classify themselves as Turkish, although minority urbanites insist on differentiating themselves from "others" in a number of ways, including the use of such labels as "Pomak" and "Gypsy". I here try to examine the content of the former, in order to illuminate the content of "Turkish urban Komotinian" identity.
Keywords
Pomaks; Greek minority policy; education; border surveillance; politics of identity
Publication Date
Winter January, 2004
Citation Information
Olga Demetriou. "Prioritizing 'ethnicities': The uncertainty of Pomak-ness in the urban Greek Rhodoppe"
Ethnic and Racial Studies
Vol. 27 Iss. 1 (2004)
Available at: http://works.bepress.com/olga_demetriou/2/