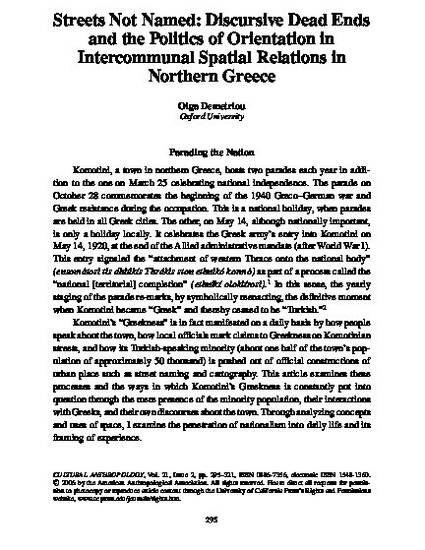 Article
Streets Not Named: Discursive Dead Ends and the Politics of Orientation in Intercommunal Spatial Relations in Northern Greece
Cultural Anthropology (2006)
Abstract
In light of recent discussions on the anthropology of space and theories of governmentality, this article analyzes the entrenchment and interaction in space of ethnic and national identities in an environment in which competing conceptualizations of space persist. The town of Komotini, in northern Greece, is inhabited by both Greek and Turkish speakers; both communities have claims to a variety of ethnic and geographical origins. These claims are presented in different contexts, such as national celebrations, street naming, and instances of communal and intercommunal interaction. The article analyzes how the claims of different actors are related through the examination of space making by state officials, minority residents, and local Greeks, all of whom acknowledge, albeit in different ways, the inconsistencies of a Greek national imaginary within Komotinian space.
Keywords
space/place,
governmentality,
biopolitics,
nationalism,
Greece-Turkey,
minority,
Thrace
Publication Date
Spring 2006
Citation Information
Olga Demetriou. "Streets Not Named: Discursive Dead Ends and the Politics of Orientation in Intercommunal Spatial Relations in Northern Greece"
Cultural Anthropology
Vol. 21 Iss. 2 (2006)
Available at: http://works.bepress.com/olga_demetriou/1/