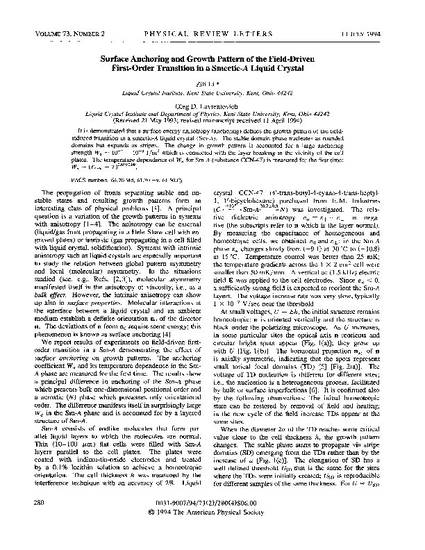 Article
Surface Anchoring and Growth-Pattern of the Field-Driven 1St-Order Transition in a Smectic-A Liquid-Crystal
Physical Review Letters
Publication Date
7-11-1994
DOI
10.1103/PhysRevLett.73.280
Keywords
viscous fingering patterns
Abstract
It is demonstrated that a surface energy anisotropy (anchoring) defines the growth pattern of the field-induced transition in a smectic-A liquid crystal (Sm-A). The stable domain phase nucleates as rounded domains but expands as stripes. The change in growth pattern is accounted for a large anchoring strength Wa∼10-2-10-3 J/m2 which is connected with the layer breaking in the vicinity of the cell plates. The temperature dependence of Wa for Sm-A (substance CCN-47) is measured for the first time: Wa∼(TA-N-T)0.65±0.09.
Citation Information
Zili Li and Oleg Lavrentovich. "Surface Anchoring and Growth-Pattern of the Field-Driven 1St-Order Transition in a Smectic-A Liquid-Crystal"
Physical Review Letters
Vol. 73 Iss. 2 (1994) p. 280 - 283
Available at: http://works.bepress.com/oleg_lavrentovich/47/