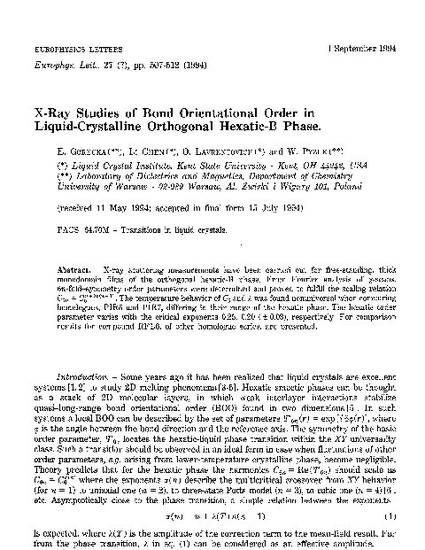 Article
X-Ray Studies of Bond-Orientational Order in Liquid-Crystalline Orthogonal Hexatic-B Phase
Europhysics Letters (1994)
Abstract
X-ray scattering measurements have been carried out for free-standing, thick . monodomain films of the orthogonal hexatic-B phase. From Fourier analysis of X-scans, 6n-fold-symmetry order parameters were determined and proved to fulfill the scaling relation C6n = C6n+lambdan(n-1). The temperature behavior of C6 and lambda was found nonuniversal when comparing homologues, PIR5 and PIR7, differing in their range of the hexatic phase. The hexatic order parameter varies with the critical exponents 0.25, 0.20 (+/- 0.03), respectively. For comparison results for compound RFL6, of other homologue series, are presented.
Publication Date
September 1, 1994
Citation Information
E. Gorecka, Li Chen, Oleg Lavrentovich and W. Pyzuk. "X-Ray Studies of Bond-Orientational Order in Liquid-Crystalline Orthogonal Hexatic-B Phase"
Europhysics Letters
Vol. 27 Iss. 7 (1994)
Available at: http://works.bepress.com/oleg_lavrentovich/41/