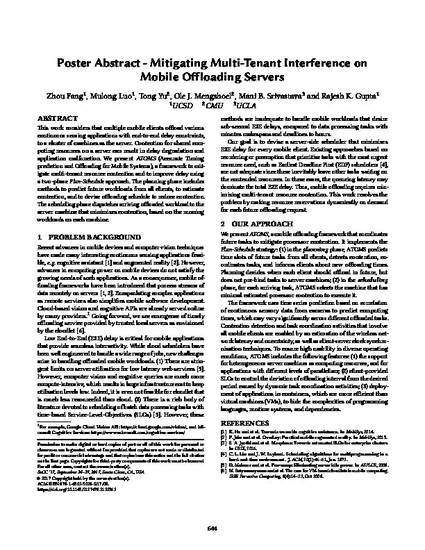 Article
Poster Abstract- Mitigating multi-tenant interference on mobile offloading servers
Proceedings of the 2017 Symposium on Cloud Computing (SoCC-17) (2017)
Abstract
This work considers that multiple mobile clients offload various continuous sensing applications with end-to-end delay constraints, to a cluster of machines as the server. Contention for shared computing resources on a server can result in delay degradation and application malfunction. We present 
ATOMS
 (Accurate Timing prediction and Offloading for Mobile Systems), a framework to mitigate multi-tenant resource contention and to improve delay using a two-phase 
Plan-Schedule
 approach. The planning phase includes methods to predict future workloads from all clients, to estimate contention, and to devise offloading schedule to reduce contention. The scheduling phase dispatches arriving offloaded workload to the server machine that minimizes contention, based on the running workloads on each machine.
Publication Date
September 24, 2017
DOI
10.1145/3127479.3132563
Citation Information
Zhou Fang, Mulong Luo, Tong Yu, Ole J Mengshoel, et al.. "Poster Abstract- Mitigating multi-tenant interference on mobile offloading servers"
Proceedings of the 2017 Symposium on Cloud Computing (SoCC-17)
(2017) p. 644 - 644
Available at: http://works.bepress.com/ole_mengshoel/70/