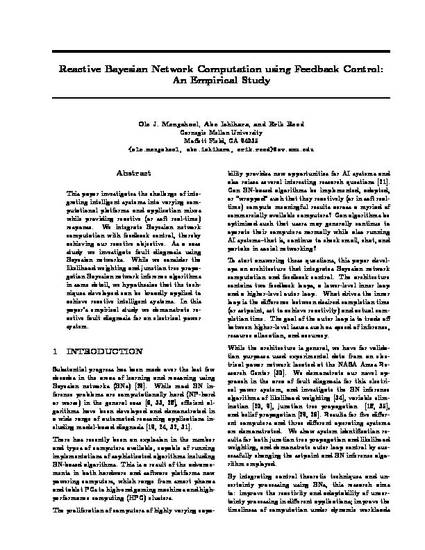 Article
Reactive Bayesian Network Computation using Feedback Control: An Empirical Study
Proc. of the 9th Bayesian Modelling Applications Workshop (2012)
Abstract
This paper investigates the challenge of integrating intelligent systems into varying computational platforms and application mixes while providing reactive (or soft real-time) response. We integrate Bayesian network computation with feedback control, thereby achieving our reactive objective. As a case study we investigate fault diagnosis using Bayesian networks. While we consider the likelihood weighting and junction tree propagation Bayesian network inference algorithms in some detail, we hypothesize that the techniques developed can be broadly applied to achieve reactive intelligent systems. In the empirical study of this paper we demonstrate reactive fault diagnosis for an electrical power system.
Keywords
Bayesian networks,
feedback control,
soft real-time,
likelihood weighting,
junction tree propagation,
electrical power system,
diagnosis
Publication Date
August 18, 2012
Citation Information
Ole J Mengshoel, Abe Ishihara and Erik Reed. "Reactive Bayesian Network Computation using Feedback Control: An Empirical Study"
Proc. of the 9th Bayesian Modelling Applications Workshop
(2012)
Available at: http://works.bepress.com/ole_mengshoel/32/