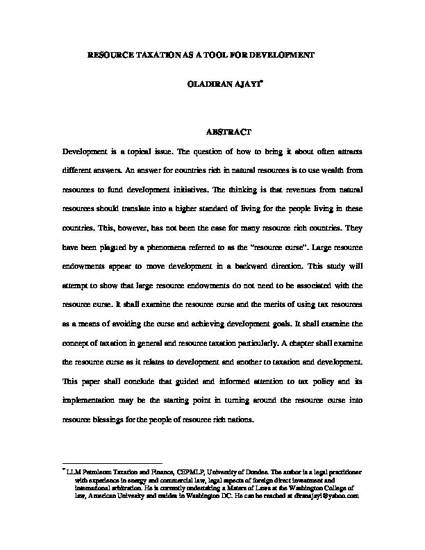 Unpublished Paper
RESOURCE TAXATION AS A TOOL FOR DEVELOPMENT
ExpressO (2009)
Abstract
ABSTRACT Development is a topical issue. The question of how to bring it about often attracts different answers. An answer for countries rich in natural resources is to use wealth from resources to fund development initiatives. The thinking is that revenues from natural resources should translate into a higher standard of living for the people living in these countries. This, however, has not been the case for many resource rich countries. They have been plagued by a phenomena referred to as the "resource curse". Large resource endowments appear to move development in a backward direction. This study will attempt to show that large resource endowments do not need to be associated with the resource curse. It shall examine the resource curse and the merits of using tax resources as a means of avoiding the curse and achieving development goals. It shall examine the concept of taxation in general and resource taxation particularly. A chapter shall examine the resource curse as it relates to development and another to taxation and development. This paper shall conclude that guided and informed attention to tax policy and its implementation may be the starting point in turning around the resource curse into resource blessings for the people of resource rich nations.
Publication Date
January 28, 2009
Citation Information
Oladiran Ajayi. "RESOURCE TAXATION AS A TOOL FOR DEVELOPMENT"
ExpressO
(2009)
Available at: http://works.bepress.com/oladiran_ajayi/1/