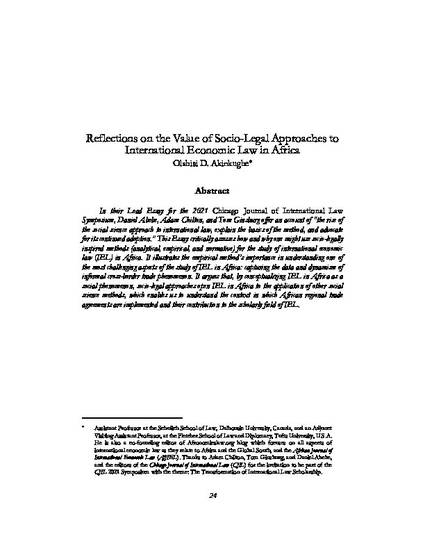 Article
Reflections on the Value of Socio-Legal Approaches to International Economic Law in Africa
Articles, Book Chapters, & Popular Press
Publication Date
7-1-2021
Keywords
Socio-legal Approaches,
International Economic Law,
Africa,
Methods,
Theory
Abstract
In their introductory essay to the 2021 Chicago Journal of International Law Symposium, Daniel Abebe, Adam Chilton, and Tom Ginsburg offer an account of "the rise of the social science approach to international law, explain the basics of the method, and advocate for its continued adoption."

This Essay critically assesses how and why one might use socio-legally inspired methods (analytical, empirical, and normative) for the study of international economic law (IEL) in Africa. It illustrates the empirical method's importance in understanding one of the most challenging aspects of the study of IEL in Africa: capturing the data and dynamism of informal cross-border trade phenomenon. It argues that, by conceptualizing IEL in Africa as a social phenomenon, socio-legal approaches open IEL in Africa to the application of other social science methods, which enable us to understand the context in which African regional trade agreements are implemented and their contribution to the scholarly field of IEL.
Publication Abbreviation
Chicago J Intl L
Citation Information
Olabisi D. Akinkugbe, "Reflections on the Value of Socio-Legal Approaches to International Economic Law in Africa" (2021) 22:1 Chicago J Intl L 24.