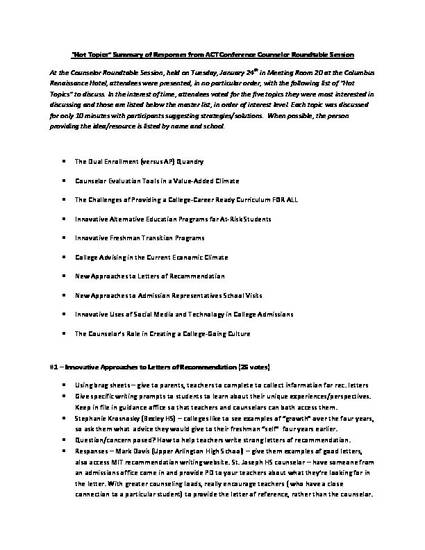 Contribution to Book
"Hot Topics" Summary of Responses from ACT Conference Counselor Roundtable Session
N/A (2012)
Abstract
At the Counselor Roundtable Session, held on Tuesday, January 24th at the Columbus Renaissance Hotel, attendees were presented, in no particular order, with a list of ten "Hot Topics" to discuss. In the interest of time, attendees voted for the five topics they were most interested in discussing and those are listed below the master list, in order of interest level. Each topic was discussed for only 10 minutes with participants suggesting strategies/solutions. When possible, the person providing the idea/resource is listed by name and school.
Publication Date
January 24, 2012
Citation Information
Linda Knicely. ""Hot Topics" Summary of Responses from ACT Conference Counselor Roundtable Session"
N/A
(2012)
Available at: http://works.bepress.com/ocan/89/