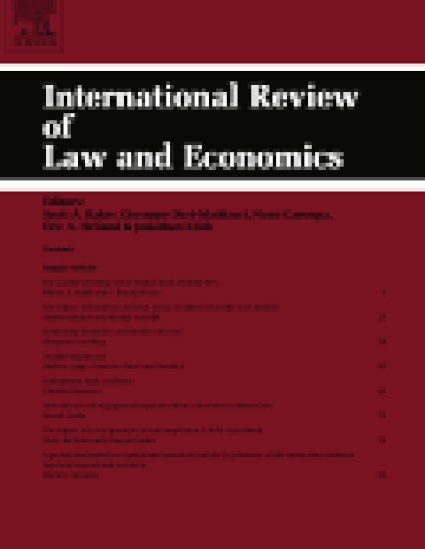 Article
Do Lawyers Induce Litigation? Evidence from Spain, 2001-2010
International Review of Law and Economics (2015)
Abstract
There are important theoretical reasons to support the idea that lawyers induce litigation. However, estimating empirically that relationship is problematic given a standard endogeneity problem: If lawyers generate litigation, additional litigation attracts more lawyers. According to recent studies, Spain has more litigation and more lawyers per capita than most OECD countries. In this paper we test for the relationship between the number of lawyers and litigation in Spain by making use of instrumental variables, in the period 2001-2010. Specifically, we construct two groups of instrumental variables related to the number of law schools founded in Spain by 1968 and to the distance between the current provincial capitals to the historical capital of their university district (where it was possible to study law) in 1845. The results show that the number of lawyers has a positive effect on litigation. However, from our econometric analysis we do not find an obvious problem of simultaneity for the period considered. Policy implications are derived.
Keywords
lawyers,
litigation,
civil courts,
instrumental variables
Citation Information
Juan Mora-Sanguinetti and Nuno Garoupa. "Do Lawyers Induce Litigation? Evidence from Spain, 2001-2010"
International Review of Law and Economics
Vol. 44 (2015) p. 29 - 41
Available at: http://works.bepress.com/nunogaroupa/83/