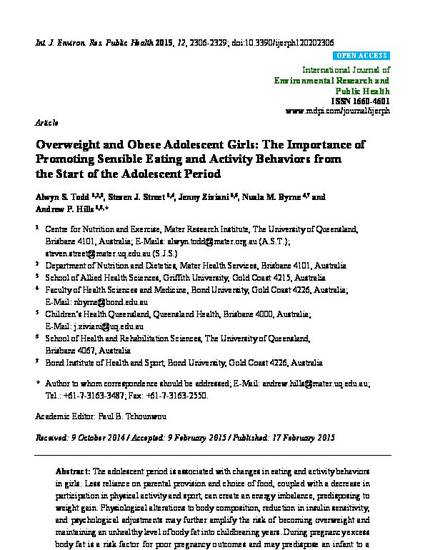 Article
Overweight and obese adolescent girls: The importance of promoting sensible eating and activity behaviors from the start of the adolescent period
International Journal of Environmental Research and Public Health
Date of this Version
2-16-2015
Document Type
Journal Article
Distribution License
Creative Commons Attribution 4.0
Abstract
The adolescent period is associated with changes in eating and activity behaviors in girls. Less reliance on parental provision and choice of food, coupled with a decrease in participation in physical activity and sport, can create an energy imbalance, predisposing to weight gain. Physiological alterations to body composition, reduction in insulin sensitivity, and psychological adjustments may further amplify the risk of becoming overweight and maintaining an unhealthy level of body fat into childbearing years. During pregnancy excess body fat is a risk factor for poor pregnancy outcomes and may predispose an infant to a lifelong heightened risk of being overweight and developing chronic disease. Interventions aimed at preventing the accumulation of body fat in adolescent girls and young women may have far reaching impact and be critically important in reducing intergenerational weight gain. Lifestyle interventions in adolescence have the potential to modify adult obesity risk by switching at-risk individuals from a high to lower obesity risk trajectory. This paper discusses multiple approaches to assist at-risk individuals reduce obesity risk. A key focus is placed on engagement in food preparation and choice, and opportunities for physical activity and sport. Support, education, and opportunity at home and at school, are often associated with the success of lifestyle interventions, and may enable adolescents to make positive choices, and engage in health promoting behaviors during adolescence and childbearing years.
Citation Information
Alwyn S Todd, Steven J Street, Jenny Ziviani, Nuala Byrne, et al.. "Overweight and obese adolescent girls: The importance of promoting sensible eating and activity behaviors from the start of the adolescent period"
International Journal of Environmental Research and Public Health
Vol. 12 Iss. 2 (2015) p. 2306 - 2329 ISSN: 1660-4601
Available at: http://works.bepress.com/nuala_byrne/38/