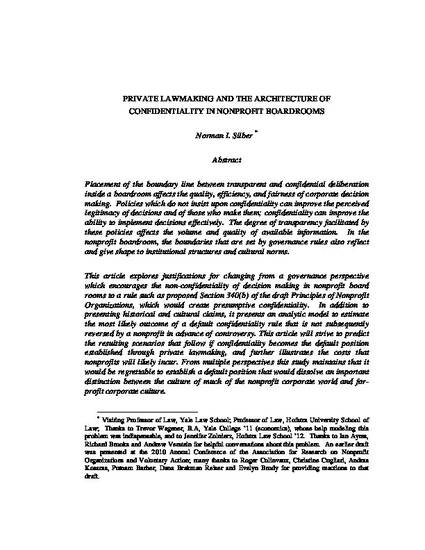 Unpublished Paper
PRIVATE LAWMAKING AND THE ARCHITECTURE OF CONFIDENTIALITY IN NONPROFIT BOARDROOMS
ExpressO (2012)
Abstract
Abstract
Placement of the boundary line between transparent and confidential deliberation inside a boardroom affects the quality, efficiency, and fairness of corporate decision making. Policies which do not insist upon confidentiality can improve the perceived legitimacy of decisions and of those who make them; confidentiality can improve the ability to implement decisions effectively. The degree of transparency facilitated by these policies affects the volume and quality of available information. In the nonprofit boardroom, the boundaries that are set by governance rules also reflect and give shape to institutional structures and cultural norms.
This article explores justifications for changing from a governance perspective which encourages the non-confidentiality of decision making in nonprofit board rooms to a rule such as proposed Section 340(b) of the draft Principles of Nonprofit Organizations, which would create presumptive confidentiality. In addition to presenting historical and cultural claims, it presents an analytic model to estimate the most likely outcome of a default confidentiality rule that is not subsequently reversed by a nonprofit in advance of controversy. This article will strive to predict the resulting scenarios that follow if confidentiality becomes the default position established through private lawmaking, and further illustrates the costs that nonprofits will likely incur. From multiple perspectives this study maintains that it would be regrettable to establish a default position that would dissolve an important distinction between the culture of much of the nonprofit corporate world and for-profit corporate culture.
By making a structured effort to determine whether rules and presumptions will incentivize socially constructive outcomes, the Article develops a more general appreciation, building on the work of Sunstein, Thayer, Ayres and others, of the possibilities for applying an institutional "choice architecture" to private lawmaking.
TABLE OF CONTENTS
I. Current Boardroom Confidentiality Norms
A. Introduction: Closed Group Decision Making……………3
B. For-Profit Boards and Confidential Deliberation…5
C. Nonprofit Non-confidentiality Norms…….……………. 6
II. CHALLENGING A PROPOSED REVISION TO THE NORM
A. Revision by the ALI Principles . . . . .12
B. Justifications Placed into Perspective…13
III. A THEORETICAL PERSPECTIVE ABOUT PRIVATE LAWMAKING
A. A Coasean Approach ..................... . . 17
B. The Effect of Reversing the Presumption…………………23
IV. CONCLUSION……………………………………..………………..........…...28
Keywords
governance,
boardroom,
director,
nonprofit,
Coase,
decision architecture,
ALI,
Principles of Nonprofit Governance,
confidentiality,
secrecy,
disclosure,
private lawmaking,
default rule,
sunshine laws,
transparency
Publication Date
July 27, 2012
Citation Information
Norman I. Silber. "PRIVATE LAWMAKING AND THE ARCHITECTURE OF CONFIDENTIALITY IN NONPROFIT BOARDROOMS"
ExpressO
(2012)
Available at: http://works.bepress.com/norman_silber/5/