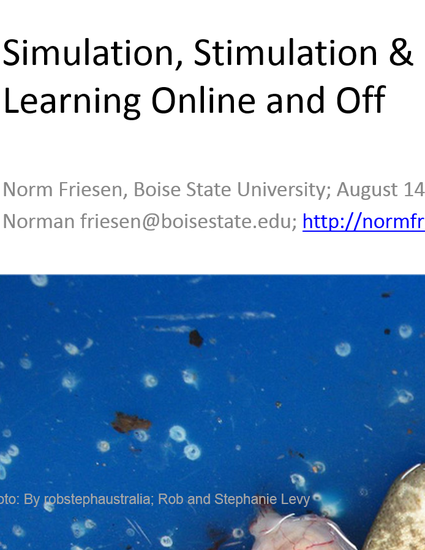 Presentation
Keynote Speaker - Simulation, Stimulation and Silence: Learning Online and Off
TECHKNOWLEDGY Symposium, Centre for Teaching and Learning, University of Alberta (2013)
Abstract
Almost 20 years after the popular adoption of the Internet, we are still finding out about the nature of online places and spaces. Whether these locations are used for interpersonal communication or naturalistic simulation, they offer characteristics which may be ideally suited to some types of pedagogical activities and less appropriate for others. This often depends on a deeper understanding of the nature of these activities and experiences. In this presentation Norm Friesen of Boise State University will undertake a careful examination of a couple of practical examples. He will use these examples explore the nature of both pedagogy and the technology, in terms of their suitability for online, face-to-face and also blended contexts.
Publication Date
August 14, 2013
Citation Information
Norman Friesen. "Keynote Speaker - Simulation, Stimulation and Silence: Learning Online and Off"
TECHKNOWLEDGY Symposium, Centre for Teaching and Learning, University of Alberta
(2013)
Available at: http://works.bepress.com/norman_friesen/18/