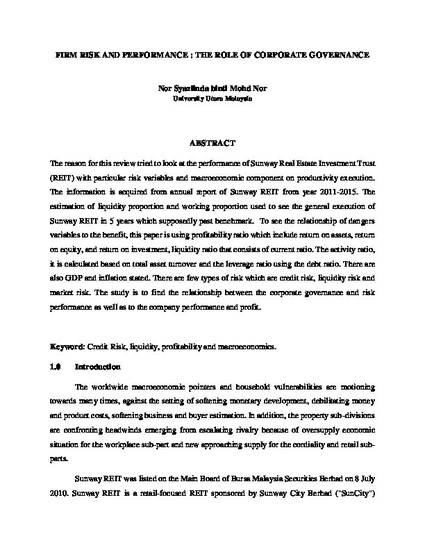 Unpublished Paper
Firm Risk And Performance: The Role Of Corporate Governance
(2017)
Abstract
The reason for this review tried to look at the performance of Sunway Real Estate Investment Trust
(REIT) with particular risk variables and macroeconomic component on productivity execution.
The information is acquired from annual report of Sunway REIT from year 2011-2015. The
estimation of liquidity proportion and working proportion used to see the general execution of
Sunway REIT in 5 years which supposedly past benchmark. To see the relationship of dangers
variables to the benefit, this paper is using profitability ratio which include return on assets, return
on equity, and return on investment, liquidity ratio that consists of current ratio. The activity ratio,
it is calculated based on total asset turnover and the leverage ratio using the debt ratio. There are
also GDP and inflation stated. There are few types of risk which are credit risk, liquidity risk and
market risk. The study is to find the relationship between the corporate governance and risk
performance as well as to the company performance and profit.
Keywords
Credit Risk,
liquidity,
profitability and macroeconomics.
Publication Date
Spring April 16, 2017
Citation Information
nor syazlinda. "Firm Risk And Performance: The Role Of Corporate Governance" (2017)
Available at: http://works.bepress.com/nor-syazlinda/1/