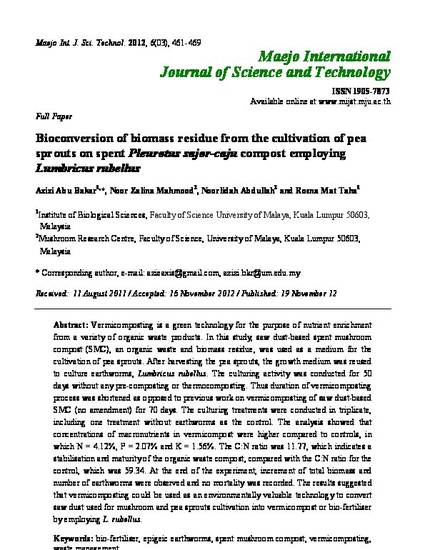 Article
Bioconversion of biomass residue from the cultivation of pea sprouts on spent Pleurotus sajor-caju compost employing Lumbricus rubellus
Maejo International Journal of Science and Technology (2012)
Abstract
Vermicomposting is a green technology for the purpose of nutrient enrichment from a variety of organic waste products. In this study, saw dust-based spent mushroom compost (SMC), an organic waste and biomass residue, was used as a medium for the cultivation of pea sprouts. After harvesting the pea sprouts, the growth medium was reused to culture earthworms, Lumbricus rubellus. The culturing activity was conducted for 50 days without any pre-composting or thermocomposting. Thus duration of vermicomposting process was shortened as opposed to previous work on vermicomposting of saw dust-based SMC (no amendment) for 70 days. The culturing treatments were conducted in triplicate, including one treatment without earthworms as the control. The analysis showed that concentrations of macronutrients in vermicompost were higher compared to controls, in which N = 4.12%, P = 2.07% and K = 1.56%. The C:N ratio was 11.77, which indicates a stabilisation and maturity of the organic waste compost, compared with the C:N ratio for the control, which was 59.34. At the end of the experiment, increment of total biomass and number of earthworms were observed and no mortality was recorded. The results suggested that vermicomposting could be used as an environmentally valuable technology to convert saw dust used for mushroom and pea sprouts cultivation into vermicompost or bio-fertiliser by employing L. rubellus.
Keywords
Bio-fertiliser,
Epigeic earthworms,
Spent mushroom compost,
Vermicomposting,
Waste management
Citation Information
Noor Zalina Binti Mahmood. "Bioconversion of biomass residue from the cultivation of pea sprouts on spent Pleurotus sajor-caju compost employing Lumbricus rubellus"
Maejo International Journal of Science and Technology
Vol. 6 Iss. 3 (2012)
Available at: http://works.bepress.com/noorzalina_mahmood/1/