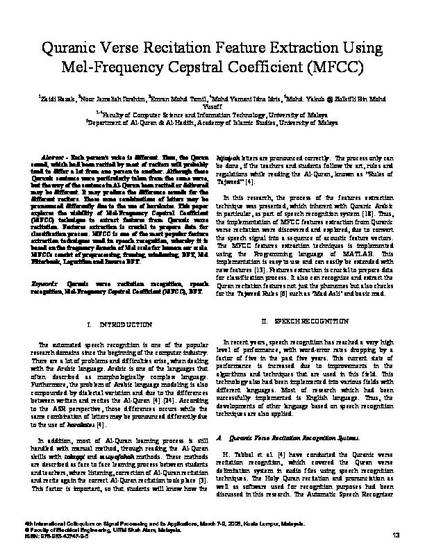 Presentation
Quranic Verse Recitation Feature Extraction using Mel-Frequency Cepstral Coefficient (MFCC)
4th International Colloquium on Signal Processing and its Applications (CSPA 2008), organized by Faculty of Electrical Engineering, UiTM Shah Alam, Malaysia. (2008)
Abstract
Each person's voice is different. Thus, the Quran sound, which had been recited by most of recitors will probably tend to differ a lot from one person to another. Although those Quranic sentence were particularly taken from the same verse, but the way of the sentence in Al-Quran been recited or delivered may be different. It may produce the difference sounds for the different recitors. Those same combinations of letters may be pronounced differently due to the use of harakates. This paper explores the viability of Mel-Frequency Cepstral Coefficient (MFCC) technique to extract features from Quranic verse recitation. Features extraction is crucial to prepare data for classification process. MFCC is one of the most popular feature extraction techniques used in speech recognition, whereby it is based on the frequency domain of Mel scale for human ear scale. MFCCs consist of preprocessing, framing, windowing, DFT, Mel Filterbank, Logarithm and Inverse DFT.
Keywords
Quranic verse recitation recognition,
speech recognition,
Mel-Frequency Cepstral Coefficient (MFCC),
DFT
Publication Date
March, 2008
Citation Information
Noor Jamaliah Ibrahim, Zaidi Razak, Emran Mohd Tamil, Mohd Yamani Idna Idris, et al.. "Quranic Verse Recitation Feature Extraction using Mel-Frequency Cepstral Coefficient (MFCC)"
4th International Colloquium on Signal Processing and its Applications (CSPA 2008), organized by Faculty of Electrical Engineering, UiTM Shah Alam, Malaysia.
(2008)
Available at: http://works.bepress.com/noorjamaliah_ibrahim/4/