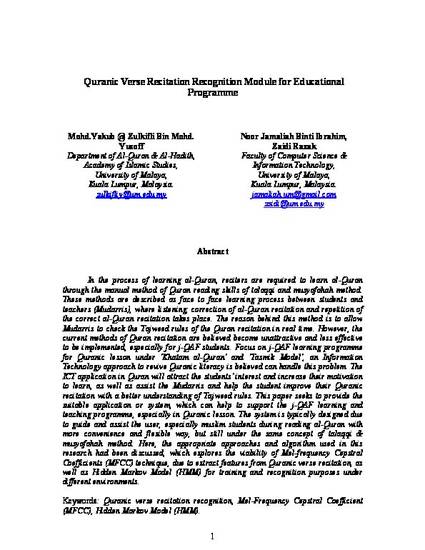 Presentation
Quranic verse Recitation Recognition Module for Educational Programme
International Seminar on Research in Islamic Studies 2008 @ ISRIS '08, organized by Academy of Islamic Studies, University of Malaya (2008)
Abstract
In the process of learning al-Quran, reciters are required to learn al-Quran through the manual method of Quran reading skills of talaqqi and musyafahah method. These methods are described as face to face learning process between students and teachers (Mudarris), where listening, correction of al-Quran recitation and repetition of the correct al-Quran recitation takes place. The reason behind this method is to allow Mudarris to check the Tajweed rules of the Quran recitation in real time. However, the current methods of Quran recitation are believed become unattractive and less effective to be implemented, especially for j-QAF students. Focus on j-QAF learning programme for Quranic lesson under 'Khatam al-Quran' and 'Tasmik Model', an Information Technology approach to revive Quranic literacy is believed can handle this problem. The ICT application in Quran will attract the students' interest and increase their motivation to learn, as well as assist the Mudarris and help the student improve their Quranic recitation with a better understanding of Tajweed rules. This paper seeks to provide the suitable application or system, which can help to support the j-QAF learning and teaching programme, especially in Quranic lesson. The system is typically designed due to guide and assist the user, especially muslim students during reading al-Quran with more convenience and flexible way, but still under the same concept of talaqqi & musyafahah method. Here, the appropriate approaches and algorithm used in this research had been discussed, which explores the viability of Mel-frequency Cepstral Coefficients (MFCC) technique, due to extract features from Quranic verse recitation, as well as Hidden Markov Model (HMM) for training and recognition purposes under different environments.
Keywords
Quranic verse recitation recognition,
Mel-Frequency Cepstral Coefficient (MFCC),
Hidden Markov Model (HMM).
Publication Date
December, 2008
Citation Information
Noor Jamaliah Ibrahim, Zulkifli Mohd Yusoff and Zaidi Razak. "Quranic verse Recitation Recognition Module for Educational Programme"
International Seminar on Research in Islamic Studies 2008 @ ISRIS '08, organized by Academy of Islamic Studies, University of Malaya
(2008)
Available at: http://works.bepress.com/noorjamaliah_ibrahim/13/