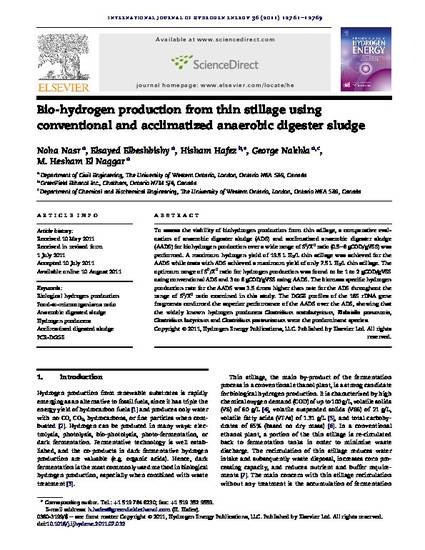 Article
Bio-hydrogen production from thin stillage using conventional and acclimatized anaerobic digester sludge
International Journal of Hydrogen Energy (2011)
Abstract
To assess the viability of biohydrogen production from thin stillage, a comparative evaluation of anaerobic digester sludge (ADS) and acclimatized anaerobic digester sludge (AADS) for biohydrogen production over a wide range of S0/X0 ratio (0.5e8 gCOD/gVSS) was performed. A maximum hydrogen yield of 19.5 L H2/L thin stillage was achieved for the AADS while tests with ADS achieved a maximum yield of only 7.5 L H2/L thin stillage. The optimum range of S0/X0 ratio for hydrogen production was found to be 1 to 2 gCOD/gVSS using conventional ADS and 3 to 6 gCOD/gVSS using AADS. The biomass specific hydrogen production rate for the AADS was 3.5 times higher than rate for the ADS throughout the range of S0/X0 ratio examined in this study. The DGGE profiles of the 16S rDNA gene fragments confirmed the superior performance of the AADS over the ADS, showing that the widely known hydrogen producers Clostridium acetobutyricum, Klebsiella pneumonia, Clostridium butyricum and Clostridium pasteurianum were the predominant species.
Keywords
Biological hydrogen production,
Food-to-microorganisms ratio,
Anaerobic digested sludge,
Hydrogen producers,
Acclimatized digested sludge,
PCR-DGGE
Citation Information
Noha Nasr, Elsayed Elbeshbishy, Hisham Hafez, George Nakhla, et al.. "Bio-hydrogen production from thin stillage using conventional and acclimatized anaerobic digester sludge"
International Journal of Hydrogen Energy
Vol. 36 (2011)
Available at: http://works.bepress.com/noha_nasr/3/