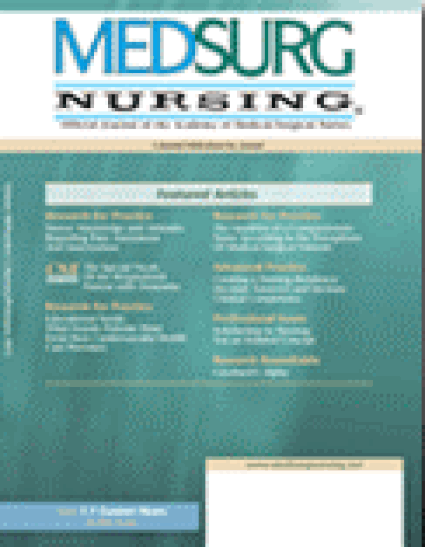 Article
'Creating a Protective Picture:' A Grounded Theory of RN Decision Making When Using a Charting-by-Exception Documentation System
MEDSURG Nursing (2013)
Abstract
The philosophy behind charting-by-exception (CBE) remains a source of professional concern almost 30 years after its introduction. The literature lacks both qualitative and quantitative studies that address staff nurse views of CBE or the use of CBE data for clinical decision making. Purpose The specific aim of this study was to explore the decision making of medical-surgical nurses who use CBE as their method of documentation. Method Grounded theory was used to explore how medical-surgical nurses decide whether to follow a CBE policy on a day-to-day, patient-by-patient basis. Approval of the AMSN Research Committee and the Rutgers University Institutional Review Board was obtained. Telephone interviews were conducted with 16 registered nurses, recruited from the AMSN membership, working in staff nurse positions on an acute care medical-surgical unit who described their perspectives and experiences in using CBE to document clinical data. Interviews were recorded and transcribed verbatim, and these data were analyzed using the constant comparative method as described by Glaser (1998). Findings The theory that emerged is a three-step process which includes Coming to Terms with the Method, Being Responsible in Documentation, and Creating a Protective Picture (CAPP). CAPP is the core category that explains how the participants resolved their main concern - creating documentation they believed would be protective of their patients, themselves, and/or their employers. Conclusion The theory provides insight into what nurses consider responsible documentation practices and the decision-making process they use when documenting under a CBE policy with an exception-based electronic documentation system.
Publication Date
Spring March, 2013
Citation Information
Noel M Kerr. "'Creating a Protective Picture:' A Grounded Theory of RN Decision Making When Using a Charting-by-Exception Documentation System"
MEDSURG Nursing
Vol. 22 Iss. 2 (2013) p. 110 - 118 ISSN: 1092-0811
Available at: http://works.bepress.com/noel_kerr/7/