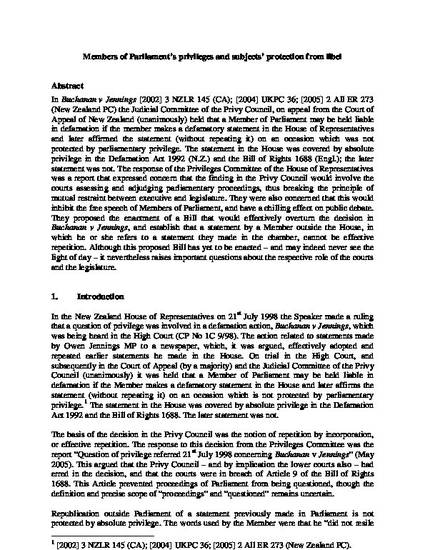 Unpublished Paper
Members of Parliament's privileges and subjects' protection from libel
ExpressO (2008)
Abstract
In Buchanan v Jennings [2002] 3 NZLR 145 (CA); [2004] UKPC 36; [2005] 2 All ER 273 (New Zealand PC) the Judicial Committee of the Privy Council, on appeal from the Court of Appeal of New Zealand (unanimously) held that a Member of Parliament may be held liable in defamation if the member makes a defamatory statement in the House of Representatives and later affirmed the statement (without repeating it) on an occasion which was not protected by parliamentary privilege. The statement in the House was covered by absolute privilege in the Defamation Act 1992 (N.Z.) and the Bill of Rights 1688 (Engl.); the later statement was not. The response of the Privileges Committee of the House of Representatives was a report that expressed concern that the finding in the Privy Council would involve the courts assessing and adjudging parliamentary proceedings, thus breaking the principle of mutual restraint between executive and legislature. They were also concerned that this would inhibit the free speech of Members of Parliament, and have a chilling effect on public debate. They proposed the enactment of a Bill that would effectively overturn the decision in Buchanan v Jennings, and establish that a statement by a Member outside the House, in which he or she refers to a statement they made in the chamber, cannot be effective repetition. Although this proposed Bill has yet to be enacted – and may indeed never see the light of day – it nevertheless raises important questions about the respective role of the courts and the legislature.
Publication Date
August 12, 2008
Citation Information
Noel Cox. "Members of Parliament's privileges and subjects' protection from libel"
ExpressO
(2008)
Available at: http://works.bepress.com/noel_cox/7/