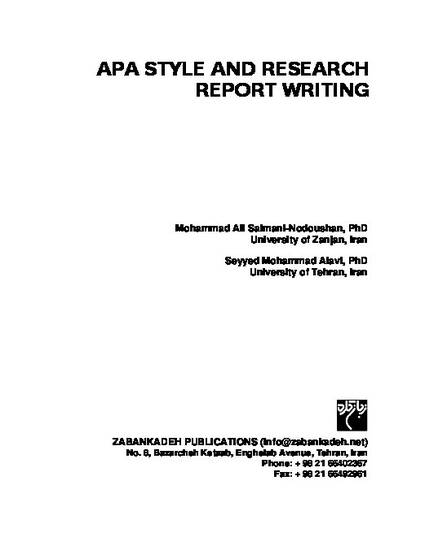 Book
APA Style and Research Report Writing
(2004)
Abstract
APA Style and Research Report Writing is designed to foster in undergraduate students the skills they need for success in their research courses. The book consists of three distinct sections: APA style, Library Research, and Reports and Theses. 
Section one presents the basic concepts of APA style in five chapters: general presentation, tables and figures, footnotes and quotations, references, and APA intricacies. Since the Publication Manual of the American Psychological Association published by the American Psychological Association (5th ed.). is a large and very detailed book, many undergraduate students find it a bit intimidating to use. Therefore, the five chapters of this section have been prepared in such a way as to make the task of complying with APA style easier for undergraduate students. A step-by-step, user-friendly, and interactive guide to the major aspects of Microsoft Word XP that students need to know is also incorporated to this section so that they can use the software for typing their final research report. 
Section two is composed of two chapters: The Library, and Note Keeping. Chapter six discusses the rudiments and the basic concepts of library research. It covers such topics as the sources available in the library, different library search methods, the importance of library research, and a few important hints for the library researchers. The focus of chapter seven is on the most popular library search method, note keeping. Two types of notes are discussed: bibliographical notes, and subject notes. Examples of each type are provided. In addition, the intricacies of note taking for each type are elaborated on. Plagiarism is discussed as the major pitfall in library research. Finally, a few hints are provided for the library research worker as to how they should approach the task of paraphrasing. Section three, too, is composed of two chapters: The Research Report, and The Thesis. Chapter eight focuses on the detailed format that a modest research report should have. The different sections of the research report are discussed, along with visual illustrations to foster in undergraduate students the skills they need for writing their research reports. The final few pages of the chapter elaborate on the differences between student research reports and journal papers. Chapter nine is most useful for graduate students. A brief synopsis of the differences that exist between short research reports and masters' theses or PhD dissertations is presented. The discussions of the chapter are enriched with visual illustrations that are helpful to the graduate student in the process of writing his thesis or dissertation.
Publication Date
Fall November 1, 2004
Publisher
Zabankadeh Publications
Citation Information
Salmani Nodoushan, M. A., & Alavi, S. M. (2004). APA style and research report writing. Tehran: Zabankadeh publications.