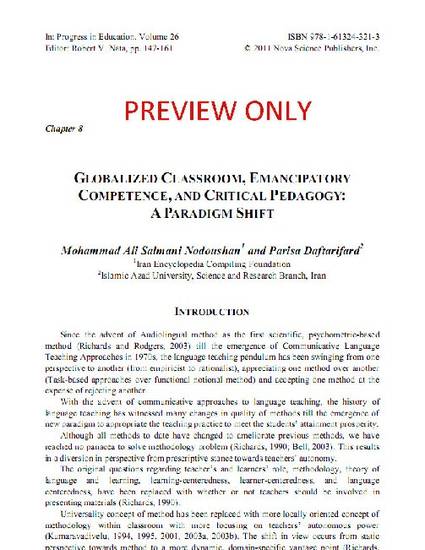 Contribution to Book
Globalized classroom, emancipatory competence, and critical pedagogy: A paradigm shift
Progress in Education (2011)
Abstract
This chapter aims at depicting critical pedagogy and claims that critical pedagogy is the new paradigm that has emerged out of sociopolitical aspects of language teaching.
Publication Date
Fall December 1, 2011
Publisher
Nova Science Publishers
Citation Information
Salmani Nodoushan, M. A., & Daftarifard, P. (2011). Globalized classroom, emancipatory competence, and critical pedagogy: A paradigm shift. In R. V. Nata (Ed.), Progress in Education, (pp. 147-162). New York: Nova Science Publishers, Inc.