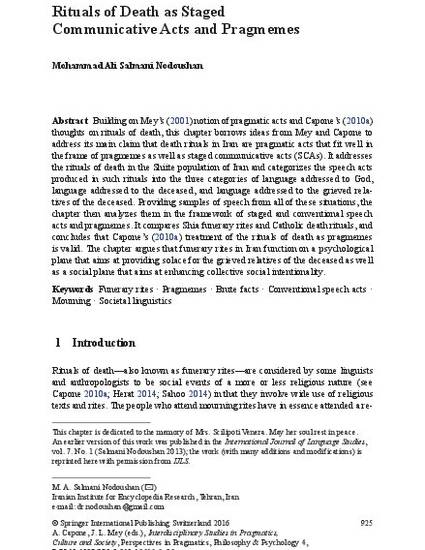 Contribution to Book
Rituals of death as staged communicative acts and pragmemes
Interdisciplinary Studies in Pragmatics, Culture and Society (2016)
Abstract
Building on Mey's (2001) notion of pragmatic acts and Capone's (2010) thoughts of rituals of death, this chapter borrows ideas from Mey and Capone to address its main claim that death rituals in Iran are pragmatic acts that fit well in the frame of pragmemes as well as Ostensible Speech Acts (OSAs). It addresses the rituals of death in the Shiite population of Iran and classifies the speech acts produced in such rites into the three categories of (a) language addressed to Allah, (b) language addressed to the deceased, and (c) language addressed to the grieved relatives of the deceased. Providing samples of speech from any of these situations, the chapter then analyzes them in the framework of conventional speech acts and pragmemes. It compares Shia funerary rites and Catholic death rituals to collude with Capone's (2010) views by arguing that funerary rites function on a psychological plane that aims at providing solace for the grieved relatives of the deceased as well as a social plane that aims at enhancing collective social intentionality.
Publication Date
Winter January 1, 2016
Editor
Jacob L. Mey & Alessandro Capone
Series
Perspectives in Pragmatics, Philosophy & Psychology
DOI
10.1007/978-3-319-12616-6
Citation Information
Salmani Nodoushan, M. A. (2016). Rituals of death as staged communicative acts and pragmemes. In A. Capone & J. L. Mey (Eds.), Interdisciplinary Studies in Pragmatics, Culture and Society, (pp. 925-959). Heidelberg: Springer.