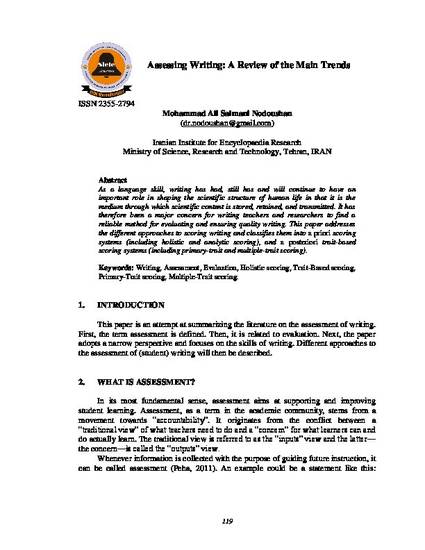 Article
Assessing writing: A review of the main trends
Studies in English Language and Education (2014)
Abstract
As a language skill, writing has had, still has and will continue have an important role in shaping the scientific structure of human life in that it is the medium through which scientific content is stored, retained, and transmitted. It has therefore been a major concern for writing teachers and researchers to find a reliable method for evaluating and ensuring quality writing. This paper addresses the different approaches to scoring writing and classifies them into a priori scoring systems (including holistic and analytic scoring), and a posteriori scoring systems (including primary-trait and multiple-trait scoring).
Publication Date
Summer September 1, 2014
Citation Information
Salmani Nodoushan, M. A. (2014). Assessing writing: A review of the main trends. Studies in English Language and Education, 1(2), 119-129.