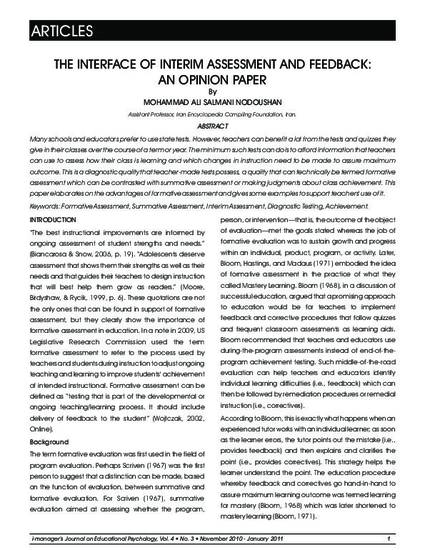 Article
The Interface between interim assessment and feedback: An opinion paper
Journal on Educational Psychology (2011)
Abstract
Many schools and educators prefer to use state tests. However, teachers can benefit a lot from the tests and quizzes they give in their classes over the course of a term or year. The minimum such tests can do is to afford information that teachers can use to assess how their class is learning and which changes in instruction need to be made to assure maximum outcome. This is a diagnostic quality that teacher-made tests possess, a quality that can technically be termed formative assessment which can be contrasted with summative assessment or making judgments about class achievement. This paper elaborates on the advantages of formative assessment and gives some examples to support teachers' use of it.
Publication Date
Winter January 1, 2011
Citation Information
Salmani Nodoushan, M. A. (2010). The Interface between interim assessment and feedback: An opinion paper. Journal on Educational Psychology, 4(3), 1-8.