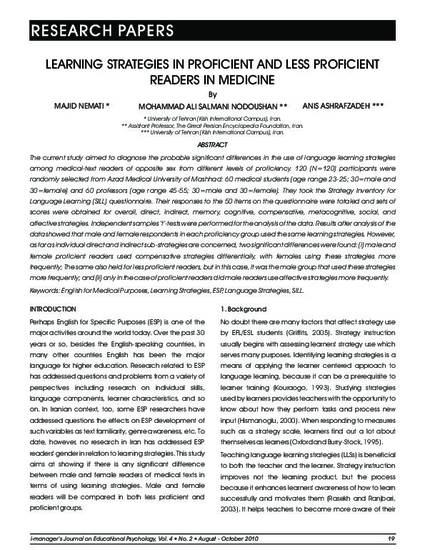 Article
Learning Strategies in Proficient and Less Proficient Readers in Medicine
Journal on Educational Psychology (2010)
Abstract
The current study aimed to diagnose the probable significant differences in the use of language learning strategies among medical-text readers of opposite sex from different levels of proficiency. 120 (N=120) participants were randomly selected from Azad Medical University of Mashhad: 60 medical students (age range 23-25; 30=male and 30=female) and 60 professors (age range 45-55; 30=male and 30=female). They took the Strategy Inventory for Language Learning (SILL) questionnaire. Their responses to the 50 items on the questionnaire were totaled and sets of scores were obtained for overall, direct, indirect, memory, cognitive, compensative, metacognitive, social, and affective strategies. Independent samples 't'-tests were performed for the analysis of the data. Results after analysis of the data showed that male and female respondents in each proficiency group used the same learning strategies. However, as far as individual direct and indirect sub-strategies are concerned, two significant differences were found: (i) male and female proficient readers used compensative strategies differentially, with females using these strategies more frequently; The same also held for less proficient readers, but in this case, it was the male group that used these strategies more frequently; and (ii) only in the case of proficient readers did male readers use affective strategies more frequently. Keywords: English for Medical Purposes, Learning Strategies, ESP, Language Strategies, SILL.
Publication Date
Fall October 1, 2010
Citation Information
Nemati, M., Salmani Nodoushan, M. A., & Ashrafzadeh, A. (2010). Learning strategies in proficient and less proficient readers in medicine. Journal on Educational Psychology, 4(2), 19-32.