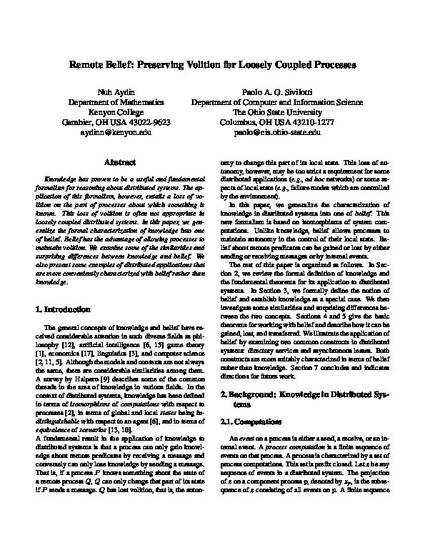 Article
Remote Belief: Preserving Volition for Loosely Coupled Processes
Distributed Computing Systems, 2003. Proceedings. 23rd International Conference on
Publication Date
5-22-2003
Abstract
Knowledge has proven to be a useful and fundamental formalism for reasoning about distributed systems. The application of this formalism, however, entails a loss of volition on the part of processes about which something is known. This loss of volition is often not appropriate in loosely coupled distributed systems. In this paper, we generalize the formal characterization of knowledge into one of belief. Belief has the advantage of allowing processes to maintain volition. We examine some of the similarities and surprising differences between knowledge and belief. We also present some examples of distributed applications that are more conveniently characterized with belief rather than knowledge.
Citation Information
Nuh Aydin and Paolo A. G. Sivilotti. "Remote Belief: Preserving Volition for Loosely Coupled Processes"
Distributed Computing Systems, 2003. Proceedings. 23rd International Conference on
(2003) p. 434 - 440
Available at: http://works.bepress.com/noah_aydin/22/