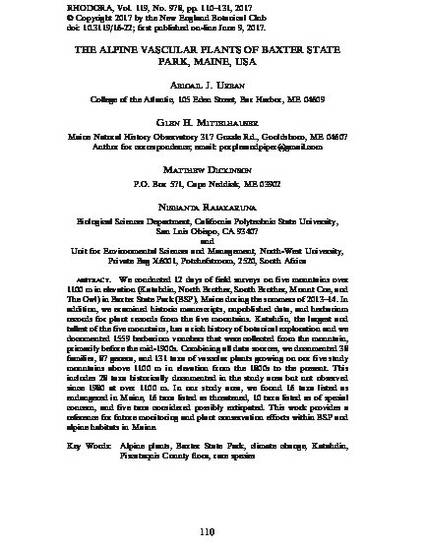 Article
The Alpine Vascular Plants of Baxter State Park, Maine, USA
Rhodora (2017)
Abstract
We conducted 12 days of field surveys on five mountains over 1100 m in elevation (Katahdin, North Brother, South Brother, Mount Coe, and The Owl) in Baxter State Park (BSP), Maine during the summers of 2013–14. In addition, we examined historic manuscripts, unpublished data, and herbarium records for plant records from the five mountains. Katahdin, the largest and tallest of the five mountains, has a rich history of botanical exploration and we documented 1559 herbarium vouchers that were collected from the mountain, primarily before the mid-1900s. Combining all data sources, we documented 38 families, 87 genera, and 131 taxa of vascular plants growing on our five study mountains above 1100 m in elevation from the 1800s to the present. This includes 28 taxa historically documented in the study area but not observed since 1980 at over 1100 m. In our study area, we found 16 taxa listed as endangered in Maine, 16 taxa listed as threatened, 10 taxa listed as of special concern, and five taxa considered possibly extirpated. This work provides a reference for future monitoring and plant conservation efforts within BSP and alpine habitats in Maine.
Keywords
Alpine plants,
Baxter State Park,
climate change,
Katahdin,
Piscataquis,
County flora,
rare species
Publication Date
April, 2017
Citation Information
Abigail J. Urban, Glen H. Mittelhauser, Matthew Dickinson and Nishanta Rajakaruna. "The Alpine Vascular Plants of Baxter State Park, Maine, USA"
Rhodora
Vol. 119 Iss. 978 (2017) p. 110 - 131 ISSN: 0035-4902
Available at: http://works.bepress.com/nishanta_rajakaruna/72/