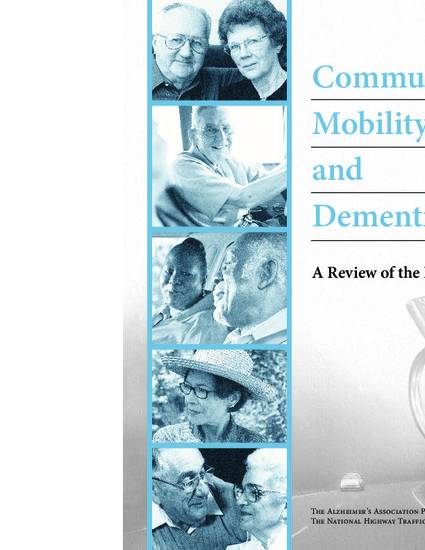 Other
Community Mobility and Dementia: A Review of the Literature
Gerontology Institute Publications
Document Type
Research Report
Publication Date
11-1-2006
Abstract
By the year 2030, 70 million Americans will be 65 or older. Approximately 80 percent of this population will likely be driving themselves. And without appropriate and timely interventions, many are likely to be driving with Alzheimer's disease (AD). Current estimates suggest that 2 percent of the population 65 to 74, 19 percent of the population 75 to 84, and 47 percent of the population 85 and older are likely to suffer from Alzheimer's disease or a related disorder. By the year 2050, the number of Americans with Alzheimer's disease could range from 11.3 million to 16 million. This significant portion of the aging population will eventually have its community mobility affected by the disease progression. The focus of concern surrounding transportation for those with dementia has until recently been on driving cessation. However, while it is important to be aware of issues related to driver screening and assessment, equal attention should be devoted to cessation counseling and helping the driver move to the passenger seat. Currently, alternative modes of transportation are not very "elder-friendly," let alone "dementia-friendly." This paper reviews the available literature on community mobility and dementia, beginning with driving and concluding with community-mobility options. The document provides a starting point for addressing the policy, program, and research issues implicit in finding ways to meet the community mobility needs of a population for whom driving is no longer safe.
Community Engaged/Serving
No, this is not community-engaged.
Citation Information
Nina M. Silverstein and Megan Vanderbur. "Community Mobility and Dementia: A Review of the Literature" (2006)
Available at: http://works.bepress.com/nina_silverstein/11/