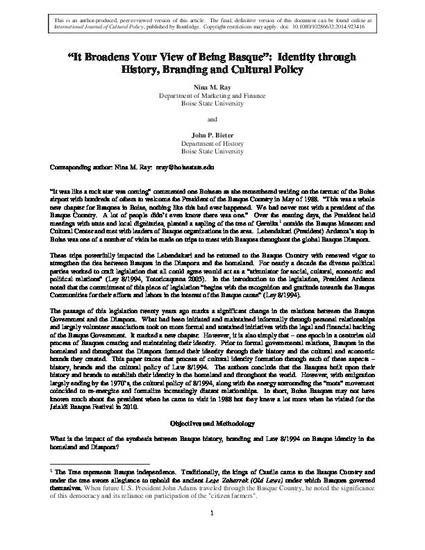 Article
"It Broadens Your View of Being Basque": Identity Through History, Branding and Cultural Policy
International Journal of Cultural Policy
Publication Date
1-1-2015
DOI
http://dx.doi.org/10.1080/10286632.2014.923416
Abstract
The purpose of the paper is to address what is the impact of the synthesis between Basque history, branding identity and Law 8/1994 on Basque identity in the homeland and Diaspora. Naturally occurring brands combine history, anthropology, sociology, and marketing to explain the phenomenon of communities defined by a sense of place. Focusing on both the Basque Country and Basques in Boise, Idaho as one case study, the authors discuss how the naturally occurring brand and cultural policy of the Basque people became formalized 20 years ago with Law 8/1994. The article addresses who the Basques are and how they have branded themselves through language, place, industry, food, drink, and culture. Similarities to other communities are explored so that other ethnic/cultural communities can learn from this Diaspora cultural policy discussion.
Copyright Statement
This is an Accepted Manuscript of an Article published in International Journal of Cultural Policy (2015), available online at doi: 10.1080/10286632.2014.923416
Citation Information
Nina M. Ray and John P. Bieter. ""It Broadens Your View of Being Basque": Identity Through History, Branding and Cultural Policy"
International Journal of Cultural Policy
(2015)
Available at: http://works.bepress.com/nina_ray/25/