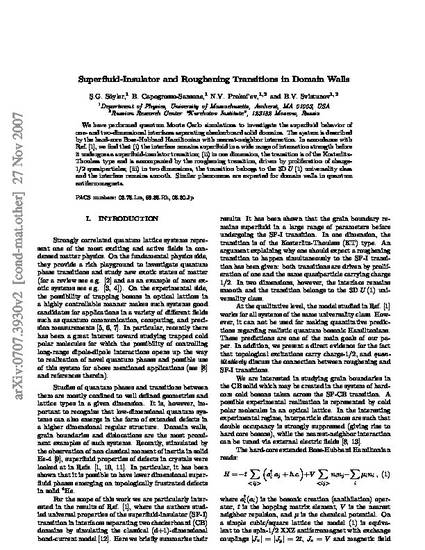 Article
Superfluid-insulator and roughening transitions in domain walls
Physics Review A
Abstract
We have performed quantum Monte Carlo simulations to investigate the superfluid behavior of one- and two-dimensional interfaces separating checkerboard solid domains. The system is described by the hard-core Bose-Hubbard Hamiltonian with nearest-neighbor interaction. In accordance with Burovski et al. [Phys. Rev. Lett. 94, 165301 (2005)] we find that (i) the interface remains superfluid in a wide range of interaction strength before it undergoes a superfluid-insulator transition; (ii) in one dimension, the transition is of the Kosterlitz-Thouless type and is accompanied by the roughening transition, driven by proliferation of charge-1∕2 quasiparticles; (iii) in two dimensions, the transition belongs to the three-dimensional U(1) universality class and the interface remains smooth. Similar phenomena are expected for domain walls in quantum antiferromagnets.
Citation Information
S Söyler, Capogrosso-Sansone, Nikolai Prokof'ev and Boris Svistunov. "Superfluid-insulator and roughening transitions in domain walls"
Physics Review A
Vol. 76 Iss. 4 (2007)
Available at: http://works.bepress.com/nikolai_prokofev/69/