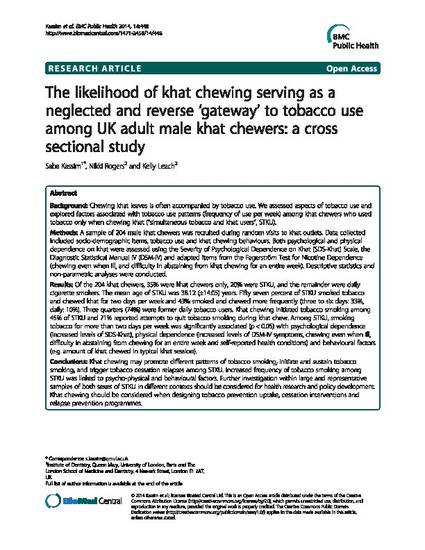 Article
The Likelihood of Khat Chewing Serving as a Neglected and Reverse 'Gateway' to Tobacco Use among UK Adult Male Khat Chewers: A Cross Sectional Study
BMC Public Health
Publication Date
1-1-2014
Abstract
Background
Chewing khat leaves is often accompanied by tobacco use. We assessed aspects of tobacco use and explored factors associated with tobacco use patterns (frequency of use per week) among khat chewers who used tobacco only when chewing khat ("simultaneous tobacco and khat users", STKU). Methods
A sample of 204 male khat chewers was recruited during random visits to khat outlets. Data collected included socio-demographic items, tobacco use and khat chewing behaviours. Both psychological and physical dependence on khat were assessed using the Severity of Psychological Dependence on Khat (SDS-Khat) Scale, the Diagnostic Statistical Manual IV (DSM-IV) and adapted items from the Fagerström Test for Nicotine Dependence (chewing even when ill, and difficulty in abstaining from khat chewing for an entire week). Descriptive statistics and non-parametric analyses were conducted. Results
Of the 204 khat chewers, 35% were khat chewers only, 20% were STKU, and the remainder were daily cigarette smokers. The mean age of STKU was 38.12 (±14.05) years. Fifty seven percent of STKU smoked tobacco and chewed khat for two days per week and 43% smoked and chewed more frequently (three to six days: 33%, daily: 10%). Three quarters (74%) were former daily tobacco users. Khat chewing initiated tobacco smoking among 45% of STKU and 71% reported attempts to quit tobacco smoking during khat chew. Among STKU, smoking tobacco for more than two days per week was significantly associated (p < 0.05) with psychological dependence (increased levels of SDS-Khat), physical dependence (increased levels of DSM-IV symptoms, chewing even when ill, difficulty in abstaining from chewing for an entire week and self-reported health conditions) and behavioural factors (e.g. amount of khat chewed in typical khat session). Conclusions
Khat chewing may promote different patterns of tobacco smoking, initiate and sustain tobacco smoking, and trigger tobacco cessation relapses among STKU. Increased frequency of tobacco smoking among STKU was linked to psycho-physical and behavioural factors. Further investigation within large and representative samples of both sexes of STKU in different contexts should be considered for health research and policy development. Khat chewing should be considered when designing tobacco prevention uptake, cessation interventions and relapse prevention programmes.
DOI
10.1186/1471-2458-14-448
Citation Information
Saba Kassim, Nikki Lynn Rogers and Kelly Leach. "The Likelihood of Khat Chewing Serving as a Neglected and Reverse 'Gateway' to Tobacco Use among UK Adult Male Khat Chewers: A Cross Sectional Study"
BMC Public Health
Vol. 14 Iss. 448 (2014) ISSN: 14712458
Available at: http://works.bepress.com/nikki_rogers/28/