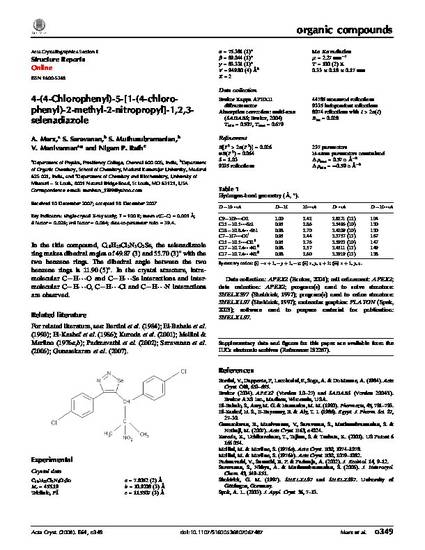 Article
4-(4-Chlorophenyl)-5-[1-(4-Chlorophenyl)-2-Methyl-2-Nitropropyl]-1,2,3-Selenadiazole
Acta Crystallographica Section E-structure Reports Online (2008)
Abstract
In the title compound, C18H15Cl2N3O2Se, the selenadiazole ring makes dihedral angles of 49.87 (3) and 55.70 (3)° with the two benzene rings. The dihedral angle between the two benzene rings is 11.90 (5)°. In the crystal structure, intra­molecular C-H...O and C-H...Se inter­actions and inter­molecular C-H...O, C-H...Cl and C-H...N inter­actions are observed.
Publication Date
February 15, 2008
DOI
10.1107/S1600536807067487
Citation Information
A. Marx, S. Saravanan, S. Muthusubramanian, V. Manivannan, et al.. "4-(4-Chlorophenyl)-5-[1-(4-Chlorophenyl)-2-Methyl-2-Nitropropyl]-1,2,3-Selenadiazole"
Acta Crystallographica Section E-structure Reports Online
Vol. 64 Iss. 2 (2008) p. o349 - sup-8
Available at: http://works.bepress.com/nigam-rath/152/