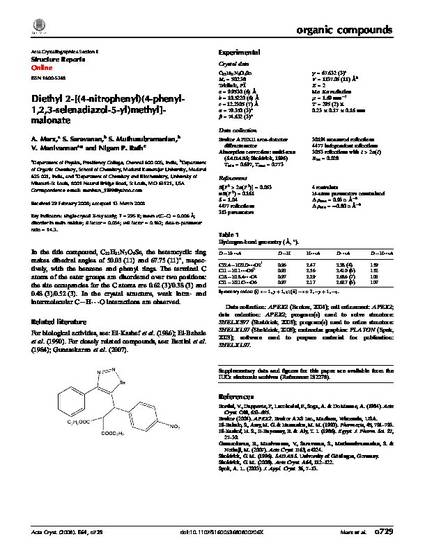 Article
Diethyl 2-[(4-Nitro­Phen­Yl)(4-Phenyl-1,2,3-Selenadiazol-5-Yl)Meth­Yl]Malonate
Acta Crystallographica Section E-structure Reports Online (2008)
Abstract
In the title compound, C22H21N3O6Se, the heterocyclic ring makes dihedral angles of 50.03 (11) and 67.75 (11)°, respectively, with the benzene and phenyl rings. The terminal C atoms of the ester groups are disordered over two positions: the site occupancies for the C atoms are 0.62 (3)/0.38 (3) and 0.48 (3)/0.52 (3). In the crystal structure, weak intra- and inter­molecular C-H...O inter­actions are observed.
Publication Date
April 15, 2008
DOI
10.1107/S160053680800706X
Citation Information
A. Marx, S. Saravanan, S. Muthusubramanian, V. Manivannan, et al.. "Diethyl 2-[(4-Nitro­Phen­Yl)(4-Phenyl-1,2,3-Selenadiazol-5-Yl)Meth­Yl]Malonate"
Acta Crystallographica Section E-structure Reports Online
Vol. 64 Iss. 4 (2008) p. o729 - sup-9
Available at: http://works.bepress.com/nigam-rath/149/